Top Stories
Irvo Otieno: 3 Virginia hospital workers charged with murder in death of 28-year-old Black man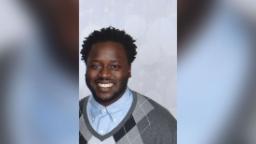 CNN
 — 

Three hospital employees in Virginia were arrested Thursday and charged with second-degree murder in the death of Irvo Otieno, the 28-year-old Black man who died at a state mental health facility last week, the Office of the Commonwealth's Attorney for Dinwiddie County said in a news release obtained by CNN affiliate WTVR.
Those charged come in addition to the seven sheriff's deputies who were charged with second-degree murder on Tuesday.
The three Central State Hospital employees were identified as Darian M. Blackwell, 23, of Petersburg; Wavie L. Jones, 34, of Chesterfield; and Sadarius D. Williams, 27, of North Dinwiddie. They were arrested Thursday and are being held without bond in the Meherrin River Regional Jail in Brunswick County, the commonwealth attorney's office said.
The death was captured on video, according to commonwealth attorney Ann Cabell Baskervill, who said she is not able to release it to the public.
"The criminal information warrants are based on the evidence collected, analyzed and evaluated to-date," Baskervill said, according to the release. "A key element of that evidence is the surveillance video from Central State Hospital that captures the intake process. To maintain the integrity of the criminal justice process at this point, I am not able to publicly release the video."
CNN has reached out to the Central State Hospital for comment.
Otieno died on March 6 at the state mental health facility during the intake process as he was being transferred from a Henrico County jail, according to Baskervill.
In court Wednesday, Baskervill said Otieno was in handcuffs and leg irons and was held on the ground for 12 minutes by all seven deputies. She said the surveillance video of the incident is "extremely clear" and "extremely alarming."
"They smothered him to death," she said. "He died of asphyxia due to being smothered."
The Office of Chief Medical Examiner in Richmond's preliminary report identifies asphyxiation as a cause of death, the Commonwealth attorney's office said in a statement.
Source link