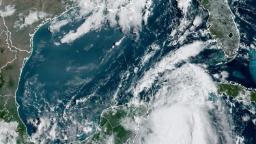 As Hurricane Idalia makes way to the Florida coast, some residents have evacuated their towns while others have not.
Janalea England lives in Steinhatchee and has been through many hurricanes as she's lived on the coast most of her life. This time she says she isn't evacuating.
"This one is supposed to be something we have never seen in recorded history for our area," England told CNN on Tuesday.
Worries of not being able to get back into the town and wanting to stay with family members who are also not evacuating is what's keeping England to stay put.
Krystal Boyle lives in Rosewood, which is seven miles inland from Cedar Key Bridge and within a county that's issued a mandatory evacuation order to residents and visitors in coastal areas.
She said she's not leaving – because she is not on the island and feels like she should be fine.
"And I have too many animals," she wrote in a Facebook message. "I'm more concerned about town and anyone who stayed," she added.
On the other hand, Lori Leigh Batts-Bennett has already evacuated the area of Steinhatchee and is staying in Jacksonville.
Batts-Bennett told CNN she spends almost every weekend in Steinhatchee and has been visiting the area since she was a child. She said she's worried about the residents who have so far refused to evacuate.
At a news conference Tuesday, Gov. Ron DeSantis urged Floridians to heed evacuation warnings. "You really got to go now," he said.
Source link