Top Stories
Here's how Fox and Newsmax tried to spin the January 6 committee's first prime-time hearing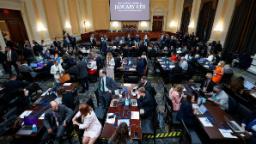 The prime-time hearing began at 8 p.m. Eastern time. When Rep. Bennie Thompson gaveled the hearing to order, Fox News host Tucker Carlson ignored him. Carlson declared that the "ruling class" was giving "yet another lecture about January 6." He called the hearing "propaganda" and reveled in his refusal to air it. "They are lying," he said, "and we are not going to help them do it."
Carlson then lied himself: He said "if something noteworthy happens" at the hearing, "obviously we will bring it to you immediately." But his show did not do that.
When Thompson said January 6 was "the culmination of an attempted coup," Carlson asked why the news media cared at all. He barely mentioned Donald Trump, even though the former president's plot to undermine American democracy was the focal point of the hearing. Instead, he talked a lot about Democrats and questioned why other networks were committing "collusion" with the House by televising the hearing. "Because the Democrats and the left are desperate," his guest Jason Whitlock said.
When Rep. Liz Cheney revealed many of the committee's findings for the first time, Carlson said everyone knows that America "could face some real problems real soon;" implied that Congress shouldn't be wasting its time on the 1/6 investigation; and called Thompson and Cheney "lunatics."
Carlson sounded like an amateur magician who tries to distract kids when a performance falls apart: "Look over here, not over there." He said, "Gas is over five bucks. Inflation is higher than it's been in the lifetime of most Americans. Violent crime is making cities impossible to live in, and more than one hundred thousand Americans ODed on drugs last year. Why isn't there a prime time hearing about any of that?"
Fox ignored its own role
All evening long, Fox downplayed the violence of January 6 and dismissed the revelations about Trump's conduct. The network also ignored its own role in promoting false claims about the election before the riot and the committee's publication of private messages between some of its hosts.
When Cheney read a text exchange between Fox stars Sean Hannity and Kayleigh McEnany from the day after the riot, with Hannity urging "no more crazy people" and "no more stolen election talk," Carlson showed the live coverage on other networks and made fun of those networks. He did not mention anything about the texts.
Newsmax, Fox's right-wing rival, actually showed most of Cheney's remarks, but cut away for analysis from pro-Trump commentators. The network's banners also promoted Trump's talking points and, at times, Newsmax's own app.
When the video concluded, Newsmax's Rob Schmitt said, "we saw a lot worse in the summer of 2020, spurred on by comments from the other side of the aisle, that burned major cities in this country down. Where's the hearing on that? Well they don't have that hearing, because they don't care about your life, where you live."
When Sean Hannity began his Fox program at 9 p.m., he did the same thing Carlson did: He showed silent live video of the hearing and talked over it the entire time. Hannity said the hearing — still in progress — was "the dullest, the most boring" Democratic "fund-raiser." He didn't play a word of what Cheney said. He focused instead on security lapses and laid the blame directly at House speaker Nancy Pelosi's feet.
When the committee swore in its witnesses, Fox's banners called the hearing a "SHAM" and an "ANTI-TRUMP SHOW TRIAL."
When the hearing concluded, and analysts on the other networks absorbed the enormity of what was presented, the pro-Trump media narrative was already baked. On Newsmax, Schmitt dismissed it as a "completely one-sided hearing about something that happened a year and a half ago." On Fox, the banner on Laura Ingraham's 10pm show said "JAN 6TH COMMITTEE FLOPS IN PRIMETIME."
"Don't get me wrong…"
Why does the right-wing media opposition matter? Because it ensures that the country stays on two wildly different tracks of information.
Made for TV?
"We all heard that this was going to be a made-for-TV hearing, a presentation designed to capture the attention of the public in a way that normal Capitol Hill events simply do not," Oliver Darcy wrote. "Specifically, we heard that the 1/6 committee was consulting with former ABC News president James Goldston to help with the production. The New York Times teased that Goldston had been hired 'to produce the hearings as if they were a docudrama or a must-watch mini-series.'"
"But in reality, the hearing did not feel like a 'docudrama' or 'must-watch mini-series.' Not even close," Darcy wrote. "Instead, it mostly employed the style of a standard, run-of-the mill Capitol Hill hearing. Yes, there was also a haunting video package showing the raw violence of that day. But that video, the only real detour from the typical hearing format, only comprised a sliver of the two-hour affair."