US & Canada
Gwinnett Police Department recruit dies after medical emergency at training center | News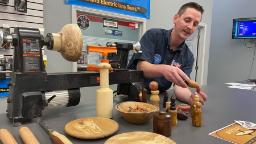 GWINNETT COUNTY, Ga. (CBS46) — A Gwinnett Police Department recruit is dead as a result of a medical emergency Tuesday morning during physical training at the Gwinnett Police Training Center.
The police department said 41-year-old Ronald Donat became lethargic and was instructed by staff to rest about 45 minutes into the first class of the day. Donat reportedly attempted to continue training but looked confused. At some point police said Donat collapsed and on site EMT's rendered aid to him before his breathing stopped. CPR and oxygen was administered, and training staff immediately notified Gwinnett Fire and Emergency Services. Upon arriving, fire medics took over treatment and transported Donat to a local hospital, where he died. 
"This was was his second day at training, but his first day doing physical training," said Officer Hideshi Valle, Gwinnett County Police Public Information Officer.
Police said he was medically evaluted before training began and that his age is not too unusual, as there have recruits with Gwinnett in their 50's.
"The age ranges, for all of our recruits. There's no age specific [for joining the department]," Officer Valle said.
Donat's death the department said marks the first time a Gwinnett County Police recruit has died during training.
#Gwinnett police are giving an update on the police recruit who died while at training this morning. @cbs46 pic.twitter.com/5sHCpKMNXM

— Jamie S Kennedy (@Jamie_S_Kennedy) October 12, 2021
His relatives have been notified and the Gwinnett Medical Examiner's Office will determine the official cause of death.
His death has hit hard with everyone in the department.
According to the police department, Donat was engaged and had two children. He was part of the department's 112th training academy. 
"It is motional time here for Gwinnett County Police, and the training staff, and the recruits. We have procedures in place to ensure that they receive counselling services," Officer Valle said.
Copyright 2021 WGCL-TV (Meredith Corporation). All rights reserved.