Sports
Gianluigi Lentini: The rise and fall of the world's most expensive player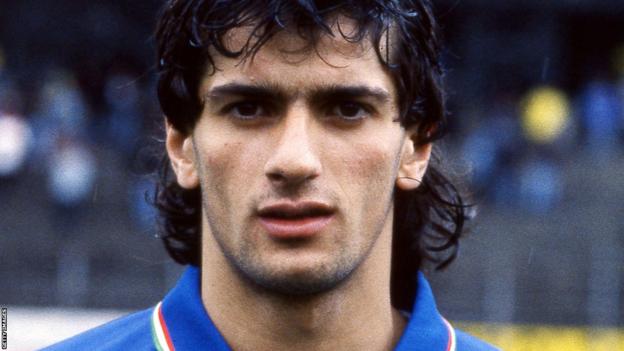 He was a sensational player, Andreas Brehme.
Most considered him the best left-back in world football – and Italia '90 saw the German at his peak.
In the semi-final against England he had taken the free-kick which deflected up and over a flat-footed Peter Shilton, and he didn't waver during the ensuing penalty shootout success either.
Having broken English hearts in Turin, Brehme decamped to Rome and rained on Diego Maradona's parade.
In a West Germany team containing generational talents like Jürgen Klinsmann and Lothar Matthäus, he was entrusted too with the decisive penalty against Argentina in the final.
Maradona's side, who ended the match with nine men, had cried foul. But when the dust settled, Brehme nervelessly despatched it.
He was Andy Brehme, absolutely consummate, absolutely peerless…
Two and a half months later, on the third Sunday of the following Serie A season, Brehme, Klinsmann and Matthaus climbed aboard a bus in Milan. Italian football was replete with cash, their top three sides engaged in a footballing arms race.
In Turin, Juventus had broken the bank to sign the hottest property in world football. Playmaker Roberto Baggio hadn't necessarily wanted to leave Florence, but Fiorentina president Flavio Pontello had been in no position to say no.
AC Milan owner Silvio Berlusconi had acquired the Dutch triumvirate of Ruud Gullit, Marco van Basten and Frank Rijkaard, and his Inter counterpart Ernesto Pellegrini had been compelled to act.
Pellegrini had paid a king's ransom to acquire the German trio and built an uber-squad around them. Having won their opening two games, logic suggested they'd prevail against newly-promoted – and as yet winless – Torino.
To celebrate their promotion, Toro president Gian Mauro Borsano had spent lavishly – in relative terms at least – on Spanish midfielder Rafael Martin Vasquez and they had also unearthed a promising young goalkeeper in Luca Marchegiani.
Beyond that, though, new coach Emiliano Mondonico had inherited a squad of misfits, journeymen and former youth team players.
One of the youngsters was a coltish winger from Carmagnola, a pretty market town just south of Turin.
The raw 21-year-old Gianluigi 'Gigi' Lentini had turned heads during the promotion campaign.
He ran and ran, had an eye for goal and was comfortable on either flank, with his right foot great and left passable.
Lentini seemed to have a myriad of ways to get past defenders. He could beat them with a trick, with pace – on the outside or inside – and always played with his head up. Physically he was developing into quite the specimen but, most of all, he was a footballing purist's dream.
Italian football back then was highly strategic and fundamentally defensive – entertainment value was compromised by stolid pragmatism.
Lentini wasn't much interested in that. Riotously talented and seemingly uncoached, he was a joyous antidote to the tactical rigidity and discipline of his nation's game.
The consensus around Turin was that he had a chance of making it, but Serie B was Serie B, and Serie A categorically was not.
It was the wealthiest league in the world and the best players were queuing up to join the gravy train. With all due respect to the full-backs at Como, Catanzaro and Cosenza, players of Brehme's calibre were operating in a different footballing cosmos.
Or so it seemed.
When the game kicked off, Toro were immediately around Inter. Mondonico's sides had always been more about urgency than method, but with Lentini front and centre, Inter found themselves penned in.
They clung on for 45 goalless minutes, but Brehme – THE Andreas Brehme – was all at sea. When Lentini picked up a loose ball, ran 40 metres and despatched it past goalkeeper Walter Zenga to seal a 2-0 win, Brehme seemed almost concussed.
Humiliated…by a 21-year-old. Maybe Brehme wasn't as good as everyone thought. Or maybe Lentini was better than anyone dared hope.

With the success, Toro were up and running for the season and Lentini was the catalyst.
In January they visited league leaders and, as it later transpired, champions-elect Sampdoria. In Roberto Mancini and Gianluca Vialli they had an outrageously talented front two, and Toro were decimated by injury.
The visitors produced a bus-parking masterclass, however, and Lentini dismantled Sampdoria on the break.
He was essentially unplayable and another of the young guns, striker Giorgio Bresciani, was the chief beneficiary as his two goals propelled Toro to a famous win. The following month Lentini made his debut for the Italian national side.
In April, Toro won a first Turin derby in seven long years and qualification for the Uefa Cup was confirmed. Better still, abject rivals Juventus missed out on a European berth altogether.
For 10 years either side of World War Two, Torino had been Italy's greatest sporting institution. That had ended abruptly and tragically in 1949 when the Superga Air Disaster saw the entire playing squad, coaching staff and board of directors of the Grande Torino wiped out at a stroke.
An estimated million people attended the funeral, a city and nation in mourning. Someone was bound to fill the vacuum and Juventus, bankrolled by the Agnelli family and car manufacturer Fiat's millions, had done precisely that.
Toro had enjoyed fleeting success post-Superga, but somehow, and in some way, something always seemed to go wrong. They'd become a byword for misfortune, their trajectory the direct inverse of "lucky" Juve. They were much more popular locally but remained, figuratively as well as literally, Turin's poor relations.
A building impresario who had made lots of money very quickly, Borsano aimed to change that and financed Torino's return to Serie A from his own pocket. Now, intoxicated with the club's fifth-placed finish in Serie A and his own burgeoning popularity, he went to the bank once more.
Borsano was a small man with big political aspirations. There was a general election around the corner, and 'Il Presidente' made it known he would be standing. There were plenty of safe seats in and around left-leaning Turin, and the club's fanbase was comprised overwhelmingly from blue-collar, working-class voters.
Election to Italy's lower house would grant Borsano immunity from any legal prosecution, but that fact didn't interest the tifosi much – certainly at the time.
The economy was booming, money was cheap to borrow and Borsano borrowed big. Legend has it he called Mondonico in the summer of 1991 and told the coach he had bought him a present. When asked what it was, Borsano said it was Belgium's best footballer.
Enzo Scifo was a midfielder of immense class and teaming him up with Martin Vasquez and Lentini was a mouth-watering prospect for the granata half of the city.
Throw in the Brazilian goal poacher par excellence Walter Casagrande, and suddenly Toro – that's Toro – had well-founded aspirations of winning silverware. It was not quite the Grande Torino, but finally a team to be proud of.
Berlusconi's Milan turned out to be untouchable in the 1991-92 season, but Toro improved once more, eventually finishing third and the established powers took note of their form – and then interest in their players.
By now, there were unsettling rumours about Borsano's finances. But such tittle-tattle was the lifeblood of Italian football and he was bullish, saying Lentini – living his boyhood dream and contracted to June 1995 – wasn't for sale.
Besides, Borsano and his team had far more pressing matters at hand.
On 1 April 1992, Mondonico's side visited the Bernabeu for a Uefa Cup semi-final first leg, which Real Madrid came from behind to win 2-1. But the away goal augured well for the return.
Four days later, as Italy went to the polls, Torino walloped Juve in the derby once more. Borsano was elected to the Chamber of Deputies and those old enough to remember the Grande Torino held what was left of their breath for the return leg against Madrid.
Neither Torino nor Juventus, who both shared the unpopular Stadio Delle Alpi, had come close to filling its 69,000 seats. The visit of Real was different though.
The people of Piedmont were reacquainted with the love of their club, and they sold it out quickly and gleefully.
Seven minutes in, Lentini delivered a wicked cross to the back post and Real's Brazilian centre-half Ricardo Rocha had no choice but to play it. He diverted it into his own net, unwittingly lighting the blue touchpaper.
Chendo was Real's right-back that evening. An authentic club legend, he wasn't the most gifted, but few have been more popular or more redoubtable.
However, with 13 minutes remaining and Real frantic for an away goal, Lentini had him right where he wanted. He ran at Chendo and, as the defender went to ground, skated beyond him and lifted his head to pick out Luca Fusi at the far post. Cue pandemonium.
Toro's opponents in the final were Dennis Bergkamp's Ajax and Torino drew a breathless home leg 2-2.
But their characteristic misfortune saw them hit the woodwork three times in the Amsterdam return and somehow it finished 0-0, with the final lost on away goals.
Toro fans added it to the list of near-misses, but what a journey it had been and Lentini maintained it was "the greatest regret of his professional career".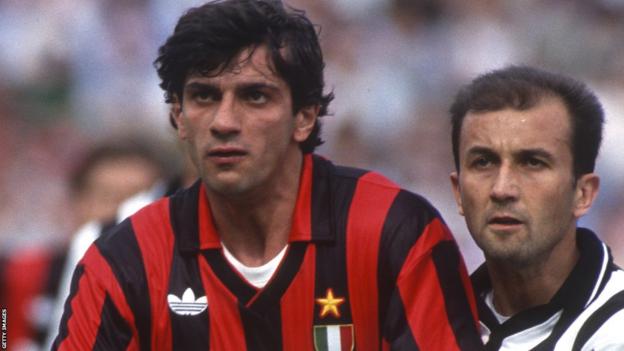 In the aftermath of that defeat, the sand beneath Borsano's empire began to crumble. The numbers simply didn't add up and something had to give. That something, inevitably, would be the club's prized asset, with both Juventus' Giampiero Boniperti and AC Milan's Berlusconi waiting.
Juventus was unconscionable, not least because anarchy would likely ensue in Turin. Some 25 years earlier, Juventus had been within hours of signing Gigi Meroni, another mercurial Toro winger.
But when the news broke, Toro fans had gridlocked the city in protest and Juve president Gianni Agnelli had intervened to call that deal off. With an estimated 40,000 Toro fans on the payroll, the ramifications for Fiat – if Meroni had crossed to their rivals – didn't bear thinking about.
Berlusconi took advantage. He whisked Lentini off to his villa in a helicopter and made him feel like his friend. He then informed the player he was being sold whether he liked it or not, due to an in-principle agreement he had signed with Borsano the previous year.
The deal was done for £13m, or £22m (65bn lire) if you factored in a stratospheric four-year contract. Lentini became the world's most expensive footballer and Borsano got his hands on £3.3m in under-the-counter cash.
Baselessly, he accused Lentini of betraying the fans, claiming he had done all he could to keep him. It was nonsense, but the catholic, puritanical part of Italy screamed its opprobrium regardless. What madness was this that a footballing man-child might be worth that kind of money? Did these people have no shame?
Borsano would then offload local boys Bresciani, Roberto Cravero and Silvano Benedetti, along with Martin Vasquez and midfield enforcer Roberto Policano.
With the backbone of their side ripped out in three desperate weeks, Toro fans took to the streets. Borsano was informed he would do well to make himself scarce as hundreds of ultras laid siege to the club offices.
One fan famously – and apparently successfully – sued the club under Italy's equivalent of the Sale of Goods Act. He claimed his season ticket was no longer worth the paper it was printed on – and so it went.
Borsano's business would implode dramatically and his political dalliances couldn't shield him from arrest and prosecution.
As their team bounced between Serie A and Serie B, Toro fans would spend the next 15 years picking up the tab. Same old, same old…
And Lentini? He performed pretty well in his first season at Milan, but not extravagantly so. It was a team that contained four or five great players and it transpired he was merely a very good one.
Lentini was anonymous when Milan lost an insipid Champions League Final to Marseille in 1993, and when Italy's football media went looking for scapegoats, Lentini's price tag preceded him.
At Toro, his long hair, earring and fondness for holidays in Ibiza had endeared him to the great unwashed. 'Gigi' was a simple kid from the provinces, they'd told themselves, and it was reflected in the abandon with which he played his football. Now they concluded his provincialismo wasn't a natural fit for a global 'brand' like AC Milan.
Lentini was supposed to be urbane and cosmopolitan, but urbane and cosmopolitan were all the things he wasn't. He was a young guy from Carmagnola who had become insanely rich in an instant – and liked doing the sort of things that young guys from Carmagnola liked to do.
His nocturnal comings and goings were becoming a story and it would all come to a head – in the most dramatic circumstances imaginable – later that summer…
By now Lentini was in a relationship with Rita Bonaccorso, the wife of the Juve striker Salvatore 'Totò' Schillaci.
Schillaci had been the break-out star of Italia '90 but now his marriage, much like his career, was in terminal decline. Bonaccorso and Schillaci were engaged in a tit-for-tat game of betrayal, with Lentini cast as the man in the middle.
Following a pre-season tournament in Genoa, he climbed into his canary-yellow Porsche 911.
Bonaccorso was waiting impatiently in Turin and so he launched the car at breakneck speed along the A21 motorway. He got a puncture, pulled into a service station and watched, frustrated, as an attendant bolted on the spare.
Lentini roared back onto the road, but failed to understand that the skinnier wheel wasn't designed to exceed 50mph, let alone the 125mph he was purported to have been doing.
A following truck driver watched on in horror as the car began to zigzag wildly across the carriageway. He leaped out of his cab to drag Lentini from the wreckage seconds before it caught fire.
He was put in an induced coma, but the Lentini who emerged was a shadow of the buccaneering footballer he had been. Save for a highly productive five-week period in early 1995, he hardly played for three seasons and scored precisely six league goals. Some speculated the coma had impacted his balance, others said his cognitive skills were diminished.
That's probably true to some degree at least, but he was lucid enough when he married a beautiful Swedish model. Typical of this most untypical of footballers, he tied the knot in his old parish church in Carmagnola. There were no journalists and hardly anyone from his footballing career received an invite.
As his form and fitness deteriorated, the line went that, for all that Lentini liked playing football, he'd never really embraced it as a job. That maverick streak had been the perfect fit for Toro, where Mondonico's promptings and the "new Gigi Meroni" schtick had suited just about everybody.
In Milan, however, they demanded professional rigour.
The club retained a psychologist, and measured the players' reaction time and physical parameters. They sought to quantify performance, deploying objective data to assess subjective performance.
It was a far cry from Mondonico's muck-and-nettles approach and the latitude Lentini had been given in Turin.
The story went that he liked the discotheque much more than the training ground, and the affair with Bonaccorso and his car crash were symptoms of a deeper malaise. Lentini was ill-suited to football's modern, more professional era, When his contract expired, Milan couldn't wait to get him off the books.
By now Mondonico was working down the road in Bergamo, coaching Atalanta. He offered a way out and, under him, Lentini became something like the player he'd been at Toro.
He was still only 27 when Arrigo Sacchi recalled him to the Italy team in November 1996, and hope sprang eternal. Yet at the season's end, Lentini saw fit to rejoin Serie B Toro.
That finished him as an international footballer, but signalled the start of a nomadic, rackety coda to his career.
After a promotion and immediate relegation with Torino, Lentini hitched another ride alongside Mondonico at Serie B Cosenza.
Mondonico, he said, was the only coach capable of making him angry on a football pitch and, as the son of a Sicilian migrant family, he felt the pull of the south. Besides, the weather down there suited him too.
When asked whether he, less than a decade after becoming the world's most expensive footballer, felt chastened by playing in front of 3,000 fans in a footballing backwater, Lentini seemed genuinely nonplussed.
Football was football, he replied, regardless of where you played and who it was against. When Cosenza were demoted to Serie D for financial irregularities in 2004, Lentini stayed on. He did so because they asked him to – and because they were nice people.
He went home to Piedmont in 2004 and, aged 35, an old friend asked him to turn out for local amateur team Canelli.
On the way to training one evening he called in on Diego Fuser, another graduate of the Toro school of excellence. As professionals they'd gone their separate ways and hadn't played together for 15 years.
Fuser hadn't been as gifted as Lentini, but few had. Instead he had enjoyed success with AC Milan, Lazio, Parma and Roma, as well as representing Italy 25 times. Their friendship, formed when they were starry-eyed teenagers, had endured.
Fuser's eight-year-old son was suffering from an incurable illness and the camaraderie acted as a balm of sorts. Fuser, too, was reminded that football's greatest virtue is that it's only a game, and the two of them set to work once more.
Canelli earned promotion to semi-professional Serie D in 2006, and Lentini and Fuser carried on playing together in the lower leagues beyond their 40th birthdays.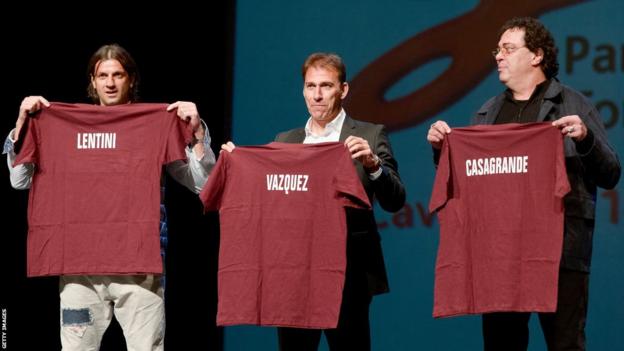 Lentini, now 54, still lives in Carmagnola and plays billiards – his great passion – with the people he grew up with, and recently tried his hand at beekeeping.
He opened a honey shop, but that was probably wishful thinking even by his standards and it has closed down now.
The latest story about him in the Italian press involved 100,000 euros being given to a local organised crime boss. Lentini never denied handing over the money, but claimed it was a loan. The recipient was found not guilty of extortion, but the affair highlighted Lentini's apparent naivety.
His vagaries still fascinate. Some say he betrayed his talent, others that he was the victim of it. They will tell you he was the flotsam and jetsam of a sport which was becoming unmoored from reality. Hijacked by people like Borsano and monetized by Berlusconi and the others, it had detached from the everyday life of its communities.
The Italian game was being transformed into a tawdry consumable, which may explain why it is in such a parlous state these days.
Qualitatively it's a shadow of its former self – and its empty stadiums tell their own story.
Many point to Lentini's rise and fall as the turning point, the beginning of a race to the bottom. That's perhaps overly dramatic. He was not for one minute its architect. It's just that, as metaphors go, he and his career arc are just about perfect.
What a player he was though. What a sight to see.
Just ask Andreas Brehme.
Source link