Top Stories
George Santos under pressure as more GOP lawmakers say he can't serve effectively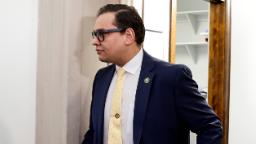 CNN
 — 

Rep. George Santos, the recently elected GOP congressman from New York who has admitted to lying about parts of his resume, is facing escalating backlash from his own party as a growing number of House Republican lawmakers call for him to resign or say he can't serve effectively even as Speaker Kevin McCarthy has stood by the embattled congressman.
Santos has so far been defiant, pushing back on calls for his resignation – and House GOP leadership has not called on him to do so. Instead, McCarthy, a Republican from California, has indicated he will not join demands from New York GOP leaders, and others, for Santos' resignation – and has indicated that Santos is on track to still receive committee assignments.
The controversy surrounding the congressman is presenting an early test of McCarthy's leadership as speaker and has created a major issue for the new GOP majority.
Two New York Republican lawmakers — US Reps. Marc Molinaro and Mike Lawler — told CNN on Thursday morning they don't believe Santos can serve his district effectively.
"There's no way I believe he can fully fulfill his responsibilities," Molinaro said.
"I think it's clear, like I said, he has lost the confidence of people in his own community, so I think he needs to seriously consider whether or not he can actually do his job effectively and right now it's pretty clear he can't," Lawler told CNN.
Santos is facing a growing chorus of GOP lawmakers who have raised questions about the congressman's ability to serve or have called for him to resign as new revelations come out about his past.
On Wednesday, however, McCarthy said he would not join New York Republican leaders and others who have demanded Santos' immediate resignation, saying it's up to voters to decide. If Santos were to resign, it would set up a special election in his district that could flip the seat to the Democrats, and McCarthy has instead suggested the Republican-led House Ethics Committee could review the allegations about Santos' past.
"I try to stick by the Constitution," he said. "The voters elected him to serve. If there is a concern, and he has to go through the Ethics (Committee), we'll let him move through that. But right now, the voters have a voice in the decisions, not where people pick and choose based upon what somebody's press has. So he will continue to serve."
McCarthy also suggested that "right now, yes" that Santos would get lower-tier committee assignments.
Santos refused to address any of the allegations of lying about his resume or his colleagues' calls for his immediate resignation on Thursday, saying only "I was elected by the people" before ducking into his office.
Source link