US & Canada
Gallery: Community celebrates Auburn WWII veteran's 99th birthday | Photo Galleries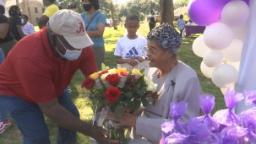 There are have been few instances in Robert Strohm II's life where he has found himself speechless. One of those moments arrived early Saturday afternoon when he was surrounded by family and friends as a procession of vehicles greeted him at his home in Auburn Saturday.
Around 15 vehicles took part in a car parade celebrating Strohm's 99th birthday in front of his residence on Nelson Street, even though his actual birth date is Oct. 12. Although Strohm, a World War II veteran, said all of the support had rendered him silent at one point, he didn't stay that way for long.
He greeted the various well-wishers, including members of local law enforcement, who stopped in front of him briefly to chat with or hug him. With a cane by his side that included the U.S. Navy insignia on it, Strohm  approached the various people around him with an ever-present smile affixed to his face, making a point to crack a joke with every singe person in his path.
Some people approached him with their arms hanging out from their front car doors, grasping cards or balloons, quick to welcome him with jovial shouts. The event was organized by Cher Guariglia, who has been neighbors with Strohm for over 35 years.
Strohm served as a medic in the U.S. Navy and was with the Naval Amphibious Forces, his son, Robert "Bob" Strohm III, said. Strohm II was in the Navy from 1941 to 1945, and had been to locations such as Sicily and southern France. After the war, he moved from Kansas City to Auburn. He worked at International Harvester from the late '40s to the early '50s, and then worked at the American Locomotive Co. for 35 years before retiring.
Sitting in a chair in his home for a moment before the parade started, Strohm said he didn't know why he should be honored.
"Thousands of other guys did more than me, but of course, my neighbors, they're so damn good to me," he said. 
Source link