Sports
From the Ashes: Alastair Cook on the highs and lows of facing Australia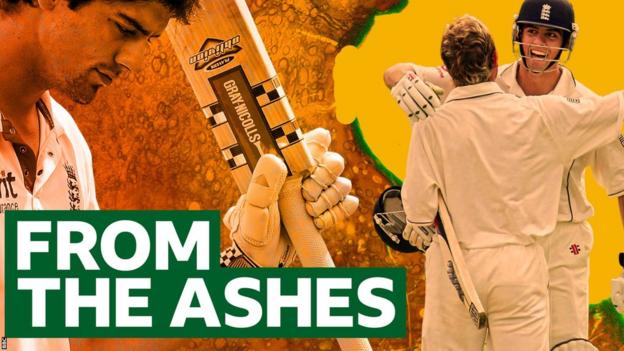 From the Ashes is a series of features and podcasts which dig deeper into tales of pain, despair and sometimes triumph in cricket's fiercest and most storied Test series.
"Anything the Ashes could have thrown at me, I've had every single bit of that."
Few have experienced more of England's modern Ashes history than Alastair Cook.
During a 12-year international career, Cook played every one of a possible 35 Ashes Tests, scoring more runs than any player on either side.
Only Archie MacLaren, at the beginning of the last century, led England in more Ashes Tests than Cook's 15 as skipper.
Player of the series for 766 runs in England's famous 2010-11 win down under, Cook lost 14 of the other 15 Tests he played in Australia, including the 2013-14 5-0 clean sweep as captain.
In England, he never lost in three series and is one of only three England skippers to win more than one home Ashes.
Opener Cook made his mark against the Australians even before he played for England, scoring 214 as a 20-year-old for Essex against a team that was about to draw the fifth Test of the iconic 2005 summer, thus losing the urn for the first time in 16 years.
Eighteen months later, he was part of an England team that felt the full force of Australian revenge.
Though Cook made his maiden Ashes hundred in Perth, a side containing Shane Warne, Glenn McGrath, Adam Gilchrist and Ricky Ponting reclaimed the urn in devastating fashion, hammering Andrew Flintoff's men 5-0.
"I watched Ricky Ponting make a hundred in Brisbane and thought 'I didn't think you could play that well'," Cook, 38, tells BBC Sport.
"My girlfriend (now wife, Alice) and her dad were there, my mum and dad were there. At the end of the series, they were going for dinner, but I couldn't. I just said 'no, I don't want to go out'. I sat in my room. I didn't want to face people because I felt embarrassed about it."
Cook, though, played through an era where the Ashes urn clocked up many thousands of air miles. The next time Australia visited the UK, in 2009, one of the smallest trophies in world sport changed hands again.
In the deciding Test at The Oval, Cook was fielding at short leg when he took the winning catch to dismiss Mike Hussey off the bowling of Graeme Swann.
"One of my friends, Ian Elliott, who I played club cricket with at Malden, text me that morning and said 'if you catch the ball, put it in your pocket'," says Cook. "When I took the catch, the subconscious took over and I had the presence of mind to put it in my pocket.
"Swanny wrestled me for it in the dressing room at The Oval, but I'm obviously a lot stronger and he had no chance. The Lord's museum asked if I'd donate it. I think it says 'donated by Graeme Swann and Alastair Cook', but it's certainly my ball and not his."
Cook averaged less than 25 in that 2009 series, with a highest score of 95 – all of his five Ashes hundreds came away from home.
"To be part of winning was very special, but there was a burning desire for something else," he says.
"Jimmy Anderson and I sat in The Oval changing room and both said 'wouldn't it have been nice to have played a bigger part in this'? We both felt like we hadn't made the impact we would have liked.
"That was the next thing. I was an Ashes winner, but I wanted to make a difference."
In the aftermath of 2009, Cook tinkered with his technique in an attempt to succeed against the Aussies.
The following summer, a new technique brought him a highest score of only 29 going into the second innings of the third Test against Pakistan at The Oval. His England future – and a place on the 2010-11 tour of Australia – was in jeopardy.
"I was four not out overnight, and that was a nick through the slips," he recalls. "I wasn't in a great frame of mind and went down to the bar to eat dinner alone. I didn't want to talk to anyone.
"The sports psychologist came up to me and said 'are you alright?' I said 'not really, I'm about to go and finish my last innings for England'.
"He said 'can I help?' I said 'what are you going to do, bat for me?'
"I made a pact with myself that night to not get out defending. I went back to my old technique and, next morning, hit my first ball from outside off stump through mid-wicket for four. I had 80-odd by lunch and that hundred got me on the Ashes tour.
"I wasn't flying, but I had clarity in my mind that was my best technique. It might not be the best technique in the world, but I couldn't be any better."
Old technique restored, Cook was about to embark on one of the all-time great Ashes performances.
The 766 runs he plundered in 2010-11 is England's second-highest return in a single Ashes series. It included 235 not out from 517-1 in a historic draw in Brisbane, centuries in Adelaide and Sydney and an 82 in Melbourne – all games that England won by an innings as they swept to a 3-1 triumph.
"I hit the sweet spot of batting," he says. "I was batting in the nets in Adelaide and Graham Gooch was slinging them down. I felt like I could hit it anywhere. I was leaving the good ones and if he missed the perfect length, I was driving or cutting.
"When I flew home from Australia I sat on the plane thinking there was nothing more I could have done on that tour. It was ultimate satisfaction. You don't often get that."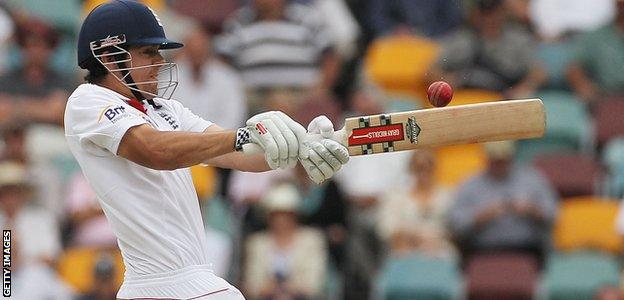 It was a natural progression for Cook to be in charge of England for the next Ashes series, a defence of the urn on home soil in 2013.
Uniquely, England were then due to travel down under immediately afterwards for another Ashes series, meaning 10 consecutive Tests against an Australia side in turmoil – they appointed Darren Lehmann as coach to replace the sacked Micky Arthur just 16 days before the contest in the UK began. Ian Botham even predicted that England would record 10 successive wins.
Though England serenely retained the Ashes 3-0, they did so in attritional fashion – grinding out runs with the bat and tying opponents down with the ball.
"For me it was all about winning, but there was a realisation after that series that there is more to winning," reflects Cook.
"I don't think we were an unpopular team, but we weren't a popular team."
Negative headlines came when some members of the England team were accused of urinating on the outfield at The Oval during celebrations after the fifth Test, but they were nothing compared to what followed on a shambolic tour of Australia.
An England team that had won the previous three Ashes series and reached number one in the world Test rankings was dismantled.
Turmoil inside the camp was ruthlessly exposed by the terrifying pace of Mitchell Johnson, who laid waste to England's batting.
"We fell apart under pressure," says Cook. "As a leader I wasn't good enough to guide us through that.
"I learned a hell of a lot. I'd love to know what would happen if I was put in that situation again. I'd like to think I'd handle it better than I did."
Jonathan Trott left the tour after the first Test, while Swann retired after the Ashes were lost in the third. Kevin Pietersen never played for England again.
"I was relieved it was over, but I didn't want my last act as captain to be a 5-0 defeat," says Cook. "I had the hunger to carry on. I felt I could lead the next generation."
The hunger to carry on was tested in the home summer on 2014, when his own form and England's results pushed Cook to the brink of resigning. When runs and wins returned, Cook was still in charge for the 2015 Ashes, leading a new England team that were heavy underdogs to regain the urn.
After Mark Butcher said England fans should "hide behind the sofa" and Jonathan Agnew admitted Australia had him "quaking", Cook's side produced a sensational performance to win the first Test in Cardiff.
Though Australia levelled the series at Lord's, England had control of the third Test after day one at Edgbaston and the fourth after day one at Trent Bridge – Stuart Broad's legendary 8-15 – to give Cook his redemption. He led the likes of Ben Stokes, Jos Buttler, Moeen Ali and Mark Wood to their first Ashes series win.
"When I was captain in 2013, it was with the remnants of the team led by Andrew Strauss," says Cook. "In 2015, it was my team."
"That was my job done and it was the only time I'd ever got emotional as captain. Mike Atherton asked me a question and I choked up. It showed how proud I was of that team."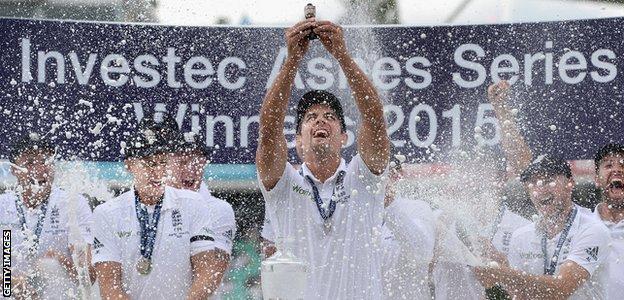 Despite the euphoria of regaining the urn, Cook knew he was unlikely to captain another Ashes Test. By the time he travelled to Australia in 2017-18, he had not only relinquished the captaincy to Joe Root, but was also having thoughts of retirement.
Three Tests later, the Ashes were gone once more and Cook had only managed a highest score of 37. Efforts of seven and 14 in the third Test in Perth left him feeling "embarrassed" and in fear of being dropped.
Retained for the fourth Test on Boxing Day in Melbourne, Cook produced one more Ashes epic with what turned out to be his final ton against the Aussies.
On the second evening, after Australia had been bowled out for 327, Cook reached three figures and celebrated in animated fashion. He ended the day unbeaten on 104.
"I got into the changing room, put a towel over my head and started crying, bawling my eyes out," he says.
"I get a lot of criticism from my wife for being very unemotional. It's just how I am. On that day, I don't know what triggered me, but for five minutes I cried my eyes out. Whether it was relief, or not having delivered when it mattered, I don't know.
"People were tapping me on the back and did not know what to do. When I'd cried all my tears, I was wondering what to do next. I think I wiped my eyes and said 'can I have a beer, please'."
The following day, Cook moved to 244 not out, the fifth-highest score by an England player in an Ashes Test and highest ever by a visiting batter in a Test at the Melbourne Cricket Ground.
"I could not have played any better," says Cook.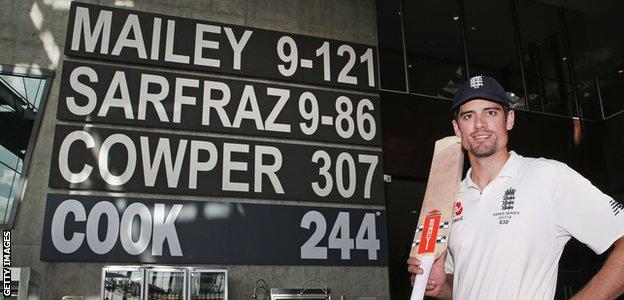 Cook was seriously questioning his international future on the subsequent tour of New Zealand and retired at the end of the 2018 summer with a fitting hundred in his final Test innings against India at The Oval. Cook remains England's all-time highest run-scorer in Test cricket with 12,472.
"I played seven Ashes series, won four and lost three. I might have lost more Tests than I won, but it's like sets and leg in darts – I won more series than I lost," says Cook.
"I'm quite proud of what I've been a part of. Some amazing times, some pretty bad times and pretty average times.
"I feel lucky to have been able to experience that."
More 'From The Ashes' features
The men's Ashes begins on 16 June, with the multi-format women's Ashes getting under way six days later. BBC Sport will have comprehensive coverage across TV, radio and online of both series.
Source link