Sports
Frank Lampard: Everton boss says he is 'not seeking reassurances' over his job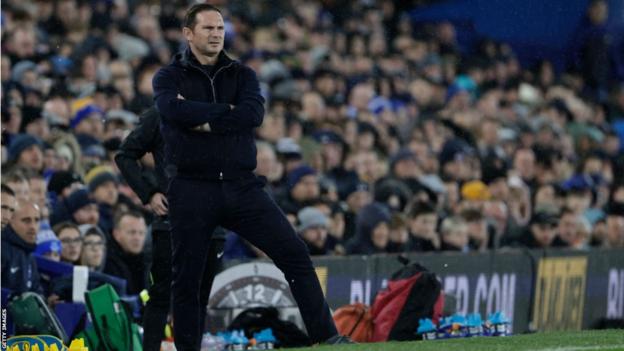 Everton boss Frank Lampard says he is not "hunting around for any reassurances" with his side in 18th place in the Premier League table.
"I've never and would never seek reassurances," said Lampard.
"It's my job to focus on the job in hand, day-to-day, game-to-game. I'm not hunting around for any reassurances.
"I'm a big man working for a great club and I'll keep doing it."
The Toffees have lost four of their last five league games and travel to an in-form Manchester United side in the third round of the FA Cup on Friday.
Lampard, 44, says his side's current league position is not his immediate concern.
"When you're in and around this area that's the reality," he added.
"But if we win the next league game we'll be out of the bottom three probably. It's part of the process.
"I'm very aware of what I came in to do in this job. I want to be a success at this club. Any challenges that come along then I'll take them on and actually enjoy them.
"I come to work to try to improve a bit every day – myself, the team, the squad and everything.
"I enjoy working for this club, it's a real honour for me. That's why I say I don't need reassurances."
Meanwhile, 16 Everton fan groups have written to the club's owner Farhad Moshiri about "reversing the decline".
In a statement, the groups said: "The time to save our club from its continued decline is now. For too long, despite your investment, we have seen diminishing returns, that now threaten our existence as a Premier League club.
"We call on you to make sweeping changes at chair, board and executive levels.
"Bring in competent, experienced professionals who can reverse our decline and make us competitive once more."
Lampard has been here before – analysis
Alistair Magowan, BBC Sport
Frank Lampard appeared quite sanguine as he discussed his position at Everton despite doubts about his future.
In his pre-match news conference for the FA Cup trip to Manchester United on Friday, he even said he was "enjoying" the role during a week where Everton slipped into the Premier League's bottom three after a crushing home defeat by Brighton.
The truth is that he has been here before. Last season, Everton were in the bottom three way deeper into the campaign but managed to recover.
Lampard still has the January transfer window to try to help a side that has one win in 10 Premier League games.
Everton's malaise is not just on Lampard's shoulders as many fans would highlight. They realise this is a club on the slide and Lampard also knows he can only fix so many of the issues.
However, he will be well aware from his time at Chelsea that if poor results continue it could lead to his sacking. He stressed he would keep working hard to turn things around.
He is just focussing on the short term, getting a result at Old Trafford and then taking on two huge games against Southampton and West Ham in the Premier League. Decisions about his time at Everton appear not to be his concern or worry.
'Patterson injury a blow'
Speaking at Thursday's news conference before the trip to Old Trafford, Lampard also confirmed defender Nathan Patterson faces six weeks out after suffering medial ligament damage in the defeat by the Seagulls.
"It's a blow, a freak one in terms of how he did the injury," he said.
"It's a big blow. He's a young full-back. He's come in, broken through and done well for us.
"It's time for others to step up to that mantle. Six weeks sounds a long time, but he'll be back."
With the January transfer window open, Lampard also said he would have money to spend on reinforcements.
"Both options are on the table in terms of loan or buying players," he added.
"I'm not going to sit and talk about finances because I can't give you the detail.
"We want to improve the squad in January, but my job is to work with the players we've got."








Source link