Sports
Francis Ngannou left UFC for 'freedom rather than money'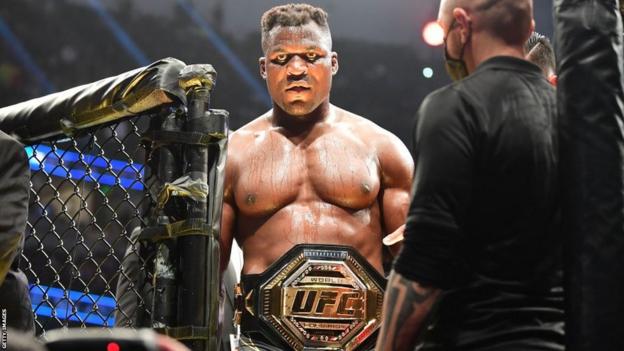 Former UFC heavyweight champion Francis Ngannou says wanting "freedom" – not money – was the reason behind his departure from the promotion.
Speaking on Ariel Helwani's MMA Hour show, Ngannou said he rejected a UFC deal to preserve his "freedom".
"It doesn't matter how much [money] is in that contract, I am not free," said Cameroon-born Ngannou, 36.
"I have no power. I hand all the power over to you guys [the UFC] and I don't want that to happen.
"I really wished it could work out, I always saw myself in the UFC. But it's a matter of principle. Money is a part of it but its not all about money."
Ngannou, who had held the heavyweight title for almost two years but has now been stripped of it following his departure, says his requests to the UFC to provide health insurance for all its fighters and to allow its athletes to have their own sponsorship deals were rejected during contract negotiations.
"I wanted them [the UFC] to put these things in consideration, they said no," said Ngannou.
"I can pay my health insurance but some of the fighters can't.
"This is very important, dignity and freedom. I need freedom and to control my destiny, not have people control it for me."
'My gut says boxing is next'
Ngannou has been in the UFC since 2015, winning 12 of his 14 fights, including victory over Stipe Miocic for the heavyweight title in 2021.
He has 11 finishes in the organisation, cementing his status as one of the most fearsome punchers in MMA.
White, who is continuing with his UFC presidential duties despite criticism over a recent altercation with his wife, suggested Ngannou had left the promotion to fight "lesser opponents" after rejecting a deal which would have made him the highest-earning heavyweight in UFC history.
However, Ngannou disagrees, suggesting he may switch to boxing which presents monumental challenges – with his ideal opponents being Tyson Fury and Anthony Joshua.
"I don't know where Dana got this from," he said.
"In the perfect world I go out there in a boxing match and come back to MMA. If I get the opportunity to fight all those tough guys [Fury and Joshua] in boxing, I would take it," he said.
"The latest [I will fight] will be July. My gut, I would say pro boxing [is next]. I'm working on it right now."
Source link