Top Stories
France vs Argentina in the 2022 World Cup final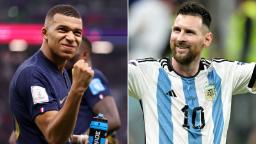 It's impossible to ignore the storyline: Argentina soccer legend Lionel Messi is playing in his final World Cup match Sunday against Kylian Mbappé, the 23-year-old superstar who is quickly becoming the face of the game.
But in remarks to the media Saturday, Argentina coach Lionel Scaloni downplayed the superstar faceoff, emphasizing that today's World Cup final is a team game.
"Tomorrow's game is Argentina against France; it's not about Messi and Mbappé. We believe that both teams have the necessary weapons for the game to be decided by other players, not necessarily either one of them," Scaloni said. "On our side, Messi is very well and we hope that it ends up falling on our side, but this is a game between Argentina and France and there are plenty of players who can decide the game."
The coach added about the opposing side's superstar:
"France is not only Mbappé. He is a great player. I think they have other players that assist him and make him a better player. He is one of the best players, he is still young and he will continue improving, there is no doubt about that."
Perhaps underlining Scaloni's point is the race for the Golden Boot. While Messi and Mbappé currently are in the lead for most goals in the tournament, a pair of teammates are close behind them. Argentina's Julián Álvarez and France's Olivier Giroud have scored four times apiece, putting them just one goal behind their squads' headlining stars.
Source link