Top Stories
Fort Pierce, Florida, shooting: 8 people injured during a MLK Day event, authorities say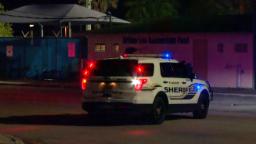 CNN
 — 

Eight people were shot at a crowded Martin Luther King Jr. Day event in Fort Pierce, Florida, authorities said Monday night.
All eight adult victims were brought to a hospital, including one person who is in critical condition, St. Lucie County Sheriff's Office Chief Deputy Brian Hester said.
At least four others were injured in the melee that followed the shooting, according to the sheriff's office.
More than a thousand people were gathered at a block party in Ilous Ellis Park when shots began ringing out around 5:20 p.m., Hester said.
The community was celebrating a Martin Luther King Jr. Day car show and "family fun day," according to the city's website.
"As the shots rang out, people were just running in all directions," Hester said. "As our deputies were arriving and entering the scene… it was mass chaos there. There were people laying behind cars, laying behind anything they could lay behind. It was kind of hard to tell who was a victim and who was just hiding at that point."
Two sheriff's deputies were working in the park and were able to provide aid to the injured, Hester said. He added that several witnesses were also helping to render aid and take people to the hospital.
Based on an initial investigation, police believe the shooting resulted from "a disagreement of some sort between two parties," Hester said.
Hester said he believes there were likely multiple shooters, citing tips and evidence found at the scene.
Police have not yet named suspects in the shooting. Investigators are working to analyze the crime scene and are following up on several leads from witnesses and community members, the chief deputy said.
"It's really unfortunate and it's sad that during a celebration of someone who represented peace and equality, a disagreement results in a use of guns and violence," Hester said.
The event featured a DJ, kids activities and an afternoon of car show judging, a flyer for the event says. Security was being provided by the sheriff's department, it says.
Fort Pierce is a coastal city about an hour's drive north of West Palm Beach.
Source link