Top Stories
Football-related arrests in England and Wales increase again – Home Office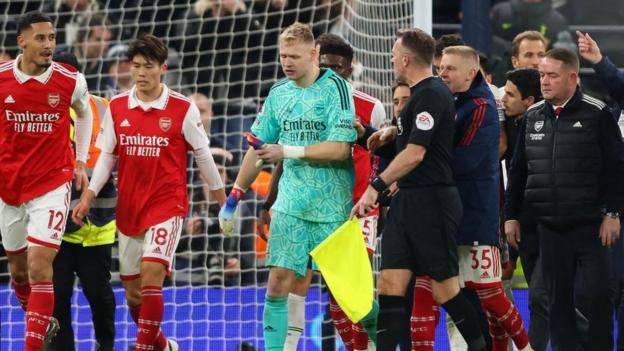 Arrests and reported incidents of disorder at football matches in England and Wales increased again last season.
There were 2,264 football-related arrests during 2022-23, according to Home Office figures.
That is an increase on the previous season, when there were 2,198 football-related arrests, which was the highest number since 2013-14.
The 2022-23 figures include those from the women's game for the first time.
The figures are elevated in part because arrests for the possession of Class A drugs at games have been included for the first time, along with arrests made in England and Wales relating to overseas matches.
The possession of Class A drugs added 200 arrests during the 2022-23 season, while there were 101 arrests in England and Wales relating to the 2022 World Cup in Qatar.
No arrests were made in connection with this summer's Women's World Cup.
There were 682 new football banning orders issued last season, which is an increase of 32% compared to the 2021-22 campaign, and is the highest number issued since the 960 in the 2010-11 season.
Of the 1,624 football banning orders in force on 1 August 2023, 1,618 were issued to men, and 1,133 to those aged between 18 and 34.
Manchester United supporters have the most banning orders in place with 69, while Millwall are second on 66.
West Ham had the highest number (89) of supporters arrested, which is the most for the second consecutive year.
The Hammers maintain they have improved and robust systems in place on matchdays and say that their pro-active tactics correlate with an increased number of bans for certain offences.
But the Home Office also said that the number of matches with reported incidents decreased by 6% (-93 matches) compared with 1,609 matches in the 2021-22 season.
Some of the high-profile incidents during the campaign included a Tottenham fan being given a four-year football banning order for kicking Arsenal goalkeeper Aaron Ramsdale after the Gunners' North London derby win over Spurs in January.
The same month a 15-year-old girl was scarred for life when she was struck on the head with a pint glass filled with coins during Manchester City's Carabao Cup tie with Liverpool.
A Leeds United fan who ran on to confront Newcastle United boss Eddie Howe at Elland Road in May was jailed for three months and banned from all games for six years.
More to follow.




Source link