Top Stories
Flight cancellations and delays continue into Wednesday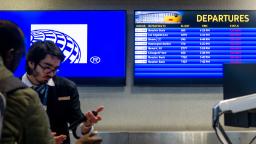 CNN
 — 

Ongoing winter weather situations across the US continue to cause flight disruptions, with more than 1,200 flights already canceled for Wednesday.
The lingering effects of ice storms in the western and southern parts of the country have caused thousands of delayed or canceled flights from Colorado to Kentucky this week.
As of 12:50 a.m. ET Wednesday, 1,207 flights within, into or out of the US have been canceled, according to airplane tracking website FlightAware, with 319 delayed.
Three airports in Texas – Dallas-Fort Worth International (DFW), Dallas Love Field (DAL) and Austin Bergstrom International (AUS) – are facing the most significant challenges.
The hardest-hit airlines are also based in Texas, namely American (whose headquarters is near DFW) and Southwest (whose home base is in Dallas).
In addition, Nashville International, Atlanta's Hartsfield-Jackson International and New York's LaGuardia International are among the airports with growing numbers of delayed flights as of early Wednesday as the wintry weather continues.
On Monday, Southwest Airlines issued a winter weather waiver across a dozen airports in Texas, Oklahoma, Tennessee, Arkansas and Kentucky. The waiver applies to affected travel between January 30 to February 1.
American Airlines issued a waiver for travel from January 29 to February 2 via DFW.
Several airports took to Twitter to keep travelers updated on January 31.
"Roads on airport property have been treated," DAL posted on its feed. "However, they are still icy/slushy due to the ongoing storm. We recommend driving very slowly if you visit us."
SDF posted on Twitter: "The SDF Snow Team will be working overnight to keep the airfield operational for our airline partners. Weather impacts are possible and travelers should monitor their flight status via the airline's app or website for current information prior to arriving at the airport."
Top: A customer speaks with a gate agent at the Austin-Bergstrom International Airport on January 31, 2023. Photo via Getty Images.
Source link