Sports
Fantasy football: Triple-captain Haaland? How to maximise this double gameweek

Gameweek 20 is a double gameweek for Manchester City, Manchester United, Tottenham and Crystal Palace so there are some big calls to be made with all of our teams.
Which three Manchester City players to go for? Do you play the triple captain chip on Erling Haaland? Do you stick with Joao Cancelo? Is Harry Kane essential with a tough double against Arsenal and Manchester City? If so, do you sell Darwin Nunez to get him? Which Manchester United players do we want along with Marcus Rashford?
Let's take those one at a time starting with the Manchester City triple-up. Despite the frustrations of playing Pep roulette I think you want three City players in your team particularly as they have another double gameweek on the way in gameweek 23.
Statman Dave says the best trio to pick are Haaland, Kevin De Bruyne and the goalkeeper Ederson, agreeing with @FPLFocal who was our guest expert on last week's Fantasy 606 podcast.
Ederson won't get you many save points or bonus points but you know he's going to start every Premier League game which we used to be able to say about Joao Cancelo, but not anymore.
Cancelo has only started two out of six games in all competitions since the World Cup, and has strong competition from Nathan Ake, Rico Lewis and Kyle Walker in the full-back positions.
John Stones probably looks the best bet for a straight swap in the City defence but we need to hear about his fitness from Pep Guardiola as he wasn't even on the bench for the Carabao Cup defeat at Southampton.
Meanwhile, 18-year-old Lewis would definitely be your most exciting option at just £3.9m but if you fancy a different flutter how about selling Cancelo for someone like Luke Shaw, Matt Doherty or Sven Botman and going for another City attacker instead?
There's always going to be risk involved with that because of the squad rotation but Riyad Mahrez is enjoying one of his purple patches at the moment, adding two more FA Cup goals against Chelsea to the winner he scored at Stamford Bridge in gameweek 19.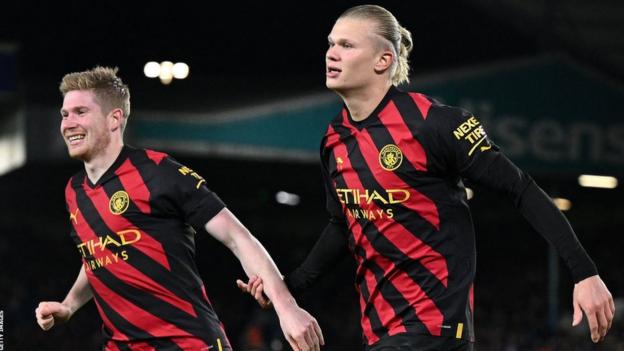 As for playing the triple-captain chip on Haaland, you need to weigh up the fixtures – the Manchester derby at Old Trafford on Saturday and a home game against Tottenham compared to a home game against Aston Villa and a trip to Arsenal in his gameweek 23 double.
You know he's fit for gameweek 20, he's unlikely to get a rest with City chasing Arsenal in the title race and no Champions League football on the immediate horizon so there's definitely something to be said for striking while the iron's hot.
Don't forget though if you captain him this week anyway then those who triple-captain him will only get a third more of his points than you, not double your score.
On to Kane, who notched up 16 points with his two goals and an assist in Tottenham's 4-0 win at Crystal Palace and now faces Arsenal and Manchester City in his double gameweek, two teams he has done very well against in the past.
I personally am going to stick with Darwin Nunez though because I know I'm not going to captain Kane in gameweek 20 and he also finds himself in the same position as Aleksandar Mitrovic did last week – if he gets booked against Arsenal he'll be suspended for the Manchester City game.
He also has to play City again in gameweek 22 so three of his next four games are against two of the best defences in the league. Nunez faces Brighton, Chelsea and Wolves in those next three gameweeks so I hope he can find his shooting boots.
There's also a chance Liverpool might get a double gameweek of their own in gameweek 21, while Manchester United could potentially double again in gameweek 22 and have a decent run of fixtures beyond that.
Rashford we know is a must and is also a potential captaincy option this week if you want to go against Haaland. Shaw or Diogo Dalot are the best options at the back with Dalot £0.4m cheaper than his fellow full-back and also owned by just 6.4% of managers compared to Shaw's 13.3% ownership.
Anthony Martial and Bruno Fernandes are both differentials at under 5% ownership – the problem with Fernandes is his £9.8m price tag and you know you won't get 90 minutes out of Martial but he is the starting centre-forward in an improving United outfit.
I don't think I'm going for any Crystal Palace players for their double gameweek against Chelsea and Manchester United, although you might well fancy them to score at Stamford Bridge on Sunday.
Finally don't forget it's a 18:30 GMT deadline on Friday this week before Aston Villa against Leeds
Alistair Bruce-Ball presents the Fantasy 606 podcast alongside former Premier League winner Chris Sutton and Statman Dave. The latest episode previewing gameweek 20 is available on the BBC Sounds App.




Source link