Top Stories
FAA computer outage grounds flights across the United States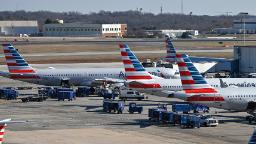 New York (CNN) — A Federal Aviation Administration system that provides pilots with notices they need to read before flying is experiencing an outage, affecting flights in the United States.
It's unclear how many flights will be affected, because some airlines may be able to operate without information from the system, known as the NOTAMS — or Notice to Air Missions — system.
The FAA says "some functions are beginning to come back on line" but added it would take time to resolve. An earlier advisory stated: "Technicians are currently working to restore the system and there is no estimate for restoration of the service at this time."
"We are performing final validation checks and repopulating the system now," an FAA statement said. "Operations across the National Airspace System are affected. We will provide frequent updates as we make progress."
The association representing US airlines, Airlines for America says the outage is "causing significant operational delays."
United Airlines said it has temporarily delayed all domestic flights.
American Airlines said in a statement it is "closely monitoring the situation, which impacts all airlines, and working with the FAA to minimize disruption to our operation and customers."
The NOTAMS system that is experiencing the outage provides "critical flight safety operation information," the airline says.
FlightAware, which tracks delays and cancellations, showed nearly 1,200 flights to, from and within the United States as being delayed as of 6:45 am ET, but only 93 flights canceled so far.
Commercial airline pilots use NOTAMS for real-time information on flight hazards and restrictions. The FAA stipulates NOTAMS are not to be relied on as a sole source of information, and so some flights may be able to satisfy safety requirements by using other data.
— This is a developing story. It will be updated.
Source link