Sports
F1 Las Vegas Grand Prix: Red Bull's Max Verstappen says weekend is '99% show, 1% sporting event'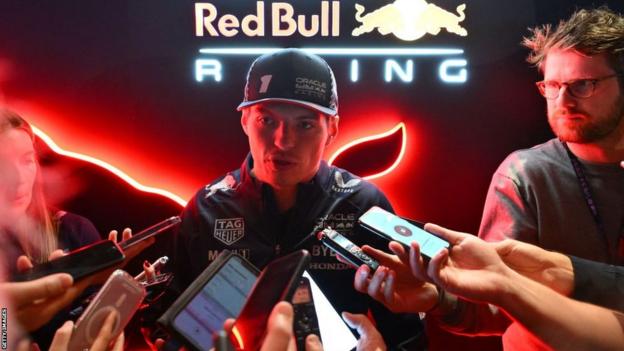 Red Bull's Max Verstappen says this weekend's Las Vegas Grand Prix is "99% show and 1% sporting event".
The triple world champion said he was "not looking forward" to the razzmatazz around the race, the first time Formula 1 cars have raced down the city's famous Strip.
Other leading drivers were more equivocal about the hype surrounding the race.
Aston Martin's Fernando Alonso said: "With the investment that has been made and the place we are racing, it deserves a little bit [of] different treatment and extra show."
The weekend was kick-started on Wednesday evening with a lavish opening ceremony.
It featured performances from several music stars, including Kylie Minogue and Journey, and culminated in the drivers being introduced to a sparsely populated crowd in light rain by being lifted into view on hydraulic platforms under a sound-and-light show.
Lewis Hamilton said: "It's amazing to be here. It is exciting – such an incredible place, so many lights, a great energy, a great buzz.
"This is one of the most iconic cities there is. It is a big show, for sure. It is never going to be like Silverstone [in terms of spectator numbers]. But maybe over time the people in the community here will grow to love the sport."
Hamilton added: "It is a business, ultimately. You'll still see good racing here.
"Maybe the track will be good, maybe it will be bad. It was so-so on the [simulator]. Don't knock it 'til you try it. I hear there are a lot of people complaining about the direction [F1 president] Stefano [Domenicali] and [owners] Liberty have been going [but] I think they have been doing an amazing job."
Verstappen added: "They are still going to make money whether I like it or not. But I am also not going to fake it. I voice my opinion in positive and negative things. That's just how I am.
"Some people like show a bit more, I don't like it at all. I just grew up looking at the performance side of things. I like to be in Vegas but not so much for racing."
Hamilton was one of a number of drivers unhappy about some of the demands being put on their time in Las Vegas.
This included a firm request made from Domenicali's office for them to support a party at the Wynn Hotel, one of the founding partners of the race, at 22:30 that evening.
A number of drivers defied Domenicali and did not attend, including Verstappen, while Aston Martin sent neither Alonso nor his team-mate Lance Stroll, with team owner Lawrence Stroll attending instead.
Las Vegas track is 'not very interesting'
Verstappen said he had "zero interest" in the party and added that he feels "not a lot of emotions" about Las Vegas.
The triple world champion's criticisms of the Las Vegas race extended to the new 3.8-mile street track, which he said was "not very interesting", and to the late timetable of the event.
The Las Vegas Grand Prix is being run to a unique schedule, with the race starting at 22:00 on Saturday night, the first time a race has been held on a Saturday for 40 years.
This means the drivers and teams are effectively operating on Japanese time while on the Western side of the USA, and there is an effective 12-hour time-zone shift between this race and the season finale in Abu Dhabi just a week later.
Verstappen said: "I don't really get that. It is very tiring also at the end of the season that we have to do this. It doesn't really make a lot of sense."
Alonso shrugged off complaints about jet lag, saying: "It is a tough sport. It is not football."
Requiring drivers to attend the party meant some teams had to change their media schedules on a day that is typically set aside for interviews. This has a knock-on effect for other meetings, such as engineering preparation for the race weekend.
Corporate clients at top of F1's agenda
The party also provided a practical example of the commercial imperatives behind the organisation of the race.
F1 has succeeded in staging a race on the Strip after 40 years of attempting to do so because it convinced the Las Vegas hotels that they would make money from it, despite the disruption to the city.
F1 has invested £500m in a new pit building and other related works on the track and expects to recoup that money and more.
The space above the pit garages is almost entirely given to corporate entertainment space, with packages costing tens and even hundreds of thousands of dollars for attendees.
The imperative to make money has meant that even though this is the biggest pit building in F1, the sport's bosses decided not to include a media centre in the paddock, preferring to devote the space to corporate guests. Instead, the media is situated in a nearby hotel, while in the paddock there is space for a wedding chapel and casino.
Alpha Tauri driver Daniel Ricciardo criticised the ticket prices, saying: "I heard some entry level prices and I'm well aware not everyone can afford those. I'd still like general admission be affordable to everyone.
"If [there are] some crazy packages and people want to spend that, all good. Maybe this is another weekend where this is the crowd they want to go after and that is the business plan."
He said: Logistically, putting it together, [I] wouldn't wish that on anyone."
Ricciardo added that he thought the race would be "pretty cool", especially the long main straight with runs past all the major hotels on the Strip.
"It's going to be probably the most interesting straight I've ever driven on," Ricciardo said. "'Cool, look at that, look at that.'"
Source link