Top Stories
F1 Las Vegas Grand Prix: Frederic Vasseur says problems with manhole covers 'unacceptable'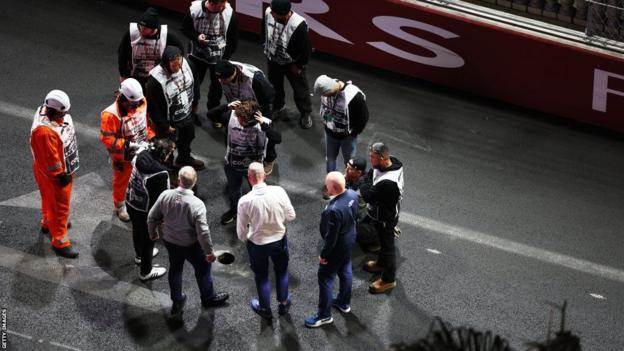 Ferrari team boss Frederic Vasseur says problems with manhole covers at the Las Vegas Grand Prix track are "just unacceptable".
First practice was cancelled after just nine minutes when Carlos Sainz hit a manhole cover that had come loose.
Esteban Ocon's Alpine was damaged in the same way before the session was cut short.
Vasseur said Sainz's car had a damaged chassis, engine and battery and would miss the second session if it happened.
He said the damage would "cost a fortune".
Vasseur added: "The show is mega and I am very happy with what [F1 owners] Liberty [Media] did around the race but we have to separate the show and the sporting side.
"The show is mega. The opening ceremony was something mega in F1 but it is not because you are doing this that you don't have to do the job on the sporting side. You can do the show and do a good job on the sporting side."
The trick was inspected and declared fit for racing by governing body the FIA before running began.
McLaren Racing chief executive officer Zak Brown said: "I don't think it was because corners were cut. They have spared no expense on the event. We just have to work out what happened and fix it. I think they just got it wrong."
Williams team boss James Vowles pointed out that modern F1 cars generated "huge amounts of suction" from their underbodies and "they just experienced a force they weren't expecting".
Alpine were also forced to replace the chassis on Ocon's car following his incident.
The FIA said there would be an indefinite delay while all manhole covers around the track were checked.
A spokesperson said: "Following inspection, it was the concrete frame around a manhole cover that has failed.
"We now need to check all of the other manhole covers, which will take some time.
"We will be discussing with the local circuit engineering team about the length of time it will take to resolve and will update with any resultant changes to the schedule."
He added that "discussions around all possible scenarios are ongoing".
It is not the first time a drain cover has caused problems on an F1 track.
At the 2019 Azerbaijan Grand Prix, first practice was cancelled when George Russell's Williams hit a drain cover and was badly damaged.
Second practice was set to start at 00:00 local time in Las Vegas (08:00 GMT).
At the time the session was stopped, drivers were just beginning to familiarise themselves with the track. Charles Leclerc's Ferrari was faster by 2.5 seconds than the Haas cars of Nico Hulkenberg and Kevin Magnussen.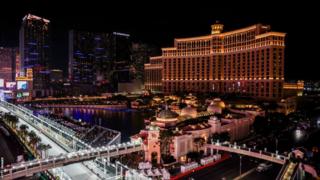 The weekend began with the expected light show
Source link