Sports
Everton to review security after threat to directors' safety at Southampton game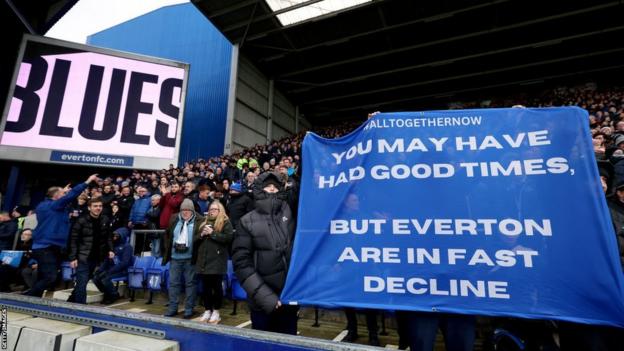 Everton are reviewing all their security arrangements after the club's board of directors missed Saturday's game against Southampton because of threats to their safety.
The board of directors did not attend after "threatening correspondence".
In consultation with police, Everton classed the fixture as "high risk" – a status also given to their next home game on 4 February against Arsenal.
Everton said there would be "enhanced security procedures" put in place.
The club said the decision came following "incidents" at the Southampton fixture and previous games, and that it was based on "intelligence gathered and information received directly by the club".
Everton added: "The health, safety and security of our supporters, staff and players is and will always remain our top priority."
The club previously said there have been "increasing incidents of anti-social behaviour, including targeted physical aggression" at recent home games.
Club sources said chief executive Denise Barrett-Baxendale was manhandled by a male fan after a 4-1 home defeat by Brighton earlier in January.
Earlier on Monday, Merseyside Police said no threats or incidents had been reported to officers prior to Saturday's game.
It added officers were aware of videos on social media of fans approaching players' cars as they made their way from Goodison Park after the 2-1 defeat.
The Toffees are 19th in the Premier League, have not won in nine matches in all competitions and have been knocked out of both domestic cups.
This month the Everton Fans' Forum (EFF) wrote an open letter to owner Farhad Moshiri asking for "sweeping changes at chair, board and executive levels".
On Saturday the EFF said it "completely condemns" any threats to Everton staff or directors.




Source link