Sports
Everton owner Farhad Moshiri says he supports manager Frank Lampard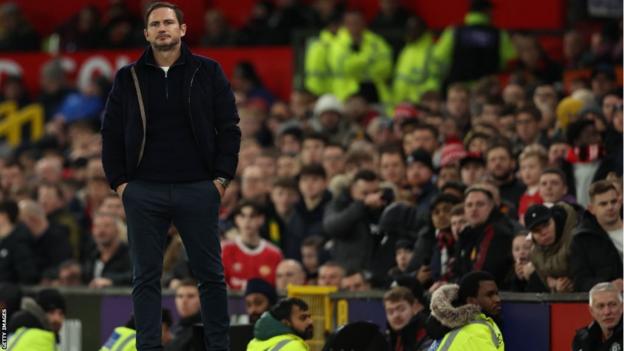 Everton owner Farhad Moshiri says he has faith in manager Frank Lampard and the club's directors amid unrest among some supporters.
The Everton Fans' Forum wrote an open letter to Moshiri on Friday asking for changes at the club, who are in the Premier League relegation zone.
Some fans are planning a sit-in protest after Saturday's home match against fellow strugglers Southampton.
In response to the letter, Moshiri says he is "confident" in his staff.
"I have faith in the work being done not only by our manager, but our director of football [Kevin Thelwell] and our board of directors," wrote Moshiri.
"That faith is based on my knowledge of the depth and quality of work being done both at Finch Farm and the Royal Liver Building [Everton's head office] – and of the plan that is in place.
"I am confident that we have skilled, experienced and focused professionals at all levels of the club. We are all agreed that our current league position must and will improve."
Everton are in 18th place after losing four of their last six league games under Lampard, who was appointed in January 2022. They have also been knocked out of both domestic cup competitions.
Moshiri added: "The focus of myself, the club and the fans is aligned – a better Everton – and I am confident we can move forward in a constructive and positive manner.
"I welcome the plans for the Fan Advisory Board to host a series of sessions with fans to gather feedback, thoughts and concerns – of which the Forum is a part."
Analysis
BBC Sport chief football writer Phil McNulty
Neither Everton nor manager Frank Lampard can afford to lose their match at home to Southampton on Saturday.
It is hard to see Lampard surviving a defeat, but he is not the main target for supporters increasingly angry at the club's continuing troubles.
Everton fan groups have owner Farhad Moshiri, chairman Bill Kenwright and chief executive Denise Barrett-Baxendale in their sights.
More than 67 fan and social media groups, plus 21 official supporter clubs have combined for the #AllTogetherNow campaign and there is a planned sit-down protest after Saturday's game at Goodison Park, with a large-scale show of banners expressing discontent expected.
It is the culmination of several seasons of struggle, squandered transfer cash and horrendous decision-making at board level which has led to a revolving door of managers that is now threatening Lampard.
Moshiri is rarely seen at games while Kenwright, who bought the club in 1999, is regarded as a constant in the years without a trophy, which now stretch back to the FA Cup win against Manchester United at Wembley in 1995.
Everton are rightly highlighting ongoing work at their impressive new stadium at Bramley Moore Dock but the concern among many supporters is that the failings under Moshiri, Kenwright and Barrett-Baxendale leave them open to the threat of having the finest arena in the Championship.
They barely escaped relegation last season and a much-touted strategic review has not stopped Everton plummeting into the bottom three this season.
Fans' frustration at apparent failure to heed warnings and with star striker Richarlison sold to Tottenham in the summer, are now bubbling to the surface once more.
Moshiri has written another of his open letters to fans in an attempt to address their growing concerns although in reality he hardly addresses them by declaring his full faith in Lampard and – far more contentiously – the rest of the board, which includes Kenwright and Barrett-Baxendale.
Early reaction suggests Moshiri may have actually aggravated fan feeling with his rare venture into the public arena and it remains to be seen how long his faith sustains if Everton lose on Saturday.
This is, after all, an owner who delivered similar public support for Rafael Benitez in December 2021 then sacked him in January 2022.


Source link