Sports
Europa Conference League: Qualifier win a 'special night' for Derry – Higgins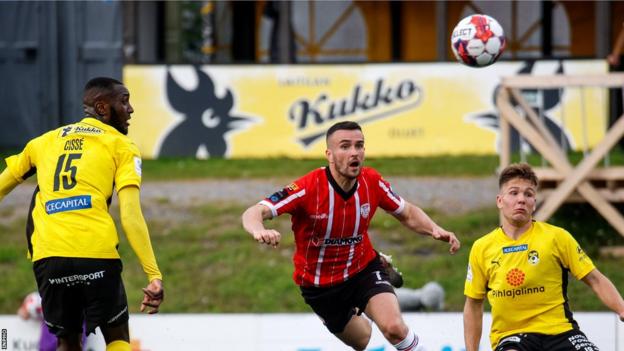 Derry City boss Rhuaidhri Higgins says it was "amazing" to overcome KuPS and progress to the third qualifying round of the Europa Conference League.
The Candystripes drew 3-3 in the second leg in Finland to clinch a 5-4 aggregate victory.
"It's amazing – it makes all the tough times worthwhile and there's been a few this season," said Higgins.
"People have had cheap shots at us at times but the resilience of the players is unquestionable."
Derry will now face Tobol of Kazakhstan – who defeated Basel – after making it to the third round of a European competition for the first time since 2006.
Paul McMullan put City in front but fell 2-1 behind before Sadou Diallo fired home the equaliser.
The hosts scored a third goal to level the tie on aggregate but Michael Duffy headed in to book Derry's place in the next and with it a prize fund of 850,000 euro.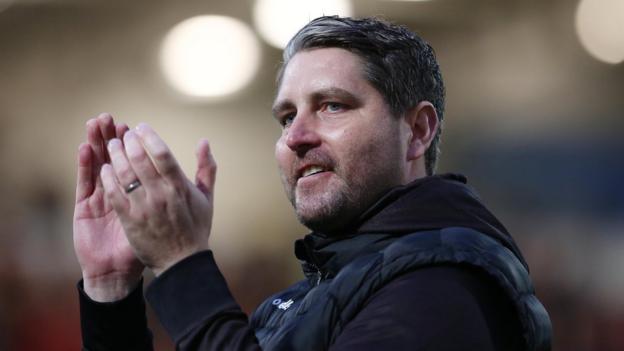 "If you look at it over the 180 minutes we definitely had the more clearcut chances and looked threatening any time we went forward," added Higgins.
"The tie was level at half time but I knew there were chances in us, the players knew it and they produced. It's amazing to win two European ties in one season for the first time in 17 years.
"The game ebbed and flowed but we're the ones in the next round. It's brilliant for our supporters, chairman, board of directors, players and staff. That's what it's all about – unity within our football club and it's a special night.
"We've had a lot of adversity this season but we're now in a good place and our players showed enormous character to stick at it. This is right up there because as a manager you are the figurehead, you are the leader of the club.
"It's a lot of responsibility managing Derry City – it's one of the biggest jobs in the country. It's a pressure job but it's also a real privilege. You can make so many people happy."
Derry have requested that Sunday's league game against UCD is postponed to aid their preparation for next week's first leg of the third qualifying round fixture.
Source link