Top Stories
England 34-12 Japan: Truth hard to find in England's inkblot Test
Joe Marler's head has never been conventional.
As a 20-year-old, he turned up for his first England training camp sporting a red mohawk. Martin Johnson, then England coach, asked him if he was going to shave it off. Marler decided not to.
Since then he has had an advert for a team-mate's hog roast business cut into his hair, worked through various shades of dye and gone bald.
Stubbornly individual, searingly honest, he has also probably done more than any other rugby player to open up the conversation on mental health, explaining how he has come to understand the inner workings of his mind.
On Sunday night, he broke more ground.
In the 56th minute of the meeting with Japan, with England just 13-12 ahead and looking vulnerable, George Ford's pass fizzed through Will Stuart's arms and ricocheted off Marler's brow behind Japan's defensive line.
Courtney Lawes picked it up, dotted it down and pointed to his own head as he reminded the referee that there is no knock-on if the ball accidently comes forward off that part of the body.
The replays confirmed it, the referee awarded it and Marler chalked up possibly the most unusual try assist of this, or any, Rugby World Cup.
At full-time, while taking a lap of the Stade de Nice to acknowledge England's fans, Marler gleefully pointed to his head. There was no denying it was crucial.
England, under scoreboard pressure, had been stilted up until then.
Their kick-heavy tactics had made limited inroads and Japan's defence had expertly soaked up runners and filled up space.
But Lawes' fortunate try put England a converted score ahead for the first time, puncturing Japan's defiance and freeing up England in attack.
After a couple of overcooked efforts, Ford measured a cross-field kick to perfection for Freddie Steward and, with the final act of the match, Joe Marchant got around the outside of a flagging Japan defence for a fourth try.
It ended 34-12, a scoreline that allowed you to see whatever you wanted.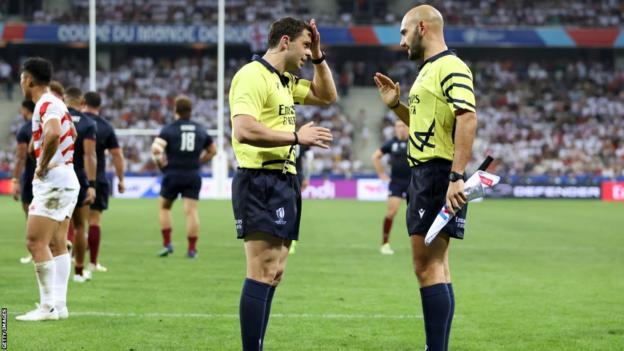 Like a psychologist's inkblot test, it was possible to look at England's work, draw on different aspects and reach very different conclusions.
One might see a second win after the two hardest games in the pool, four tries in greasy conditions, the grinding down of an excellently-organised defence, partnerships growing, momentum building and key players like Tom Curry and Owen Farrell set to return and add further impetus.
"At the end of the day the players found a way and that was the important thing," said head coach Steve Borthwick. "We are seeing growth now in our attack and I think we are going to see more growth in our attack.
"I believe I've got a group of players who know what it is to perform on the big stage."
Alternatively you might see something else. You might see the same opponents who were soon and soundly beaten 10 months ago, but on Sunday stuck in the game deep into the second half thanks to England's blooper reel of basic errors and a reflex tendency to hoof away attacking ball without thought or care.
Certainly some in the crowd did not always enjoy what they were seeing, with England's tactics being booed at points.
For a team that has prioritised winning over those supporters disillusioned during the Eddie Jones era, that is concerning feedback.
Marler, in his usual pithy manner, picked a middle way between the two – one which may be closest to the truth.
"Once we actually managed to keep hold of the ball and not drop it, we were able to build some more pressure," he said after joking that his headed try assist had been inspired by Brighton's win over Manchester United on Saturday.
England have their own shocks to avoid. They play matches against Chile, the lowest-ranked team in the tournament, and Samoa to complete their Pool D fixture list.
Those two games will throw up selection issues with Owen Farrell available after serving a four-match ban and the likes of Billy Vunipola, Ellis Genge and Marcus Smith – all part of an impressive bench against Japan – pushing for starting roles.
After that comes the quarter-finals and more formidable Tests.
The sort of Tests where if you drop the ball like England did, you are soon picking up tickets home. The sort of Tests that will bring this win over Japan into sharp focus and, either way, reveal its truths.
Source link