Top Stories
Denmark vs Tunisia and other World Cup 2022 news and highlights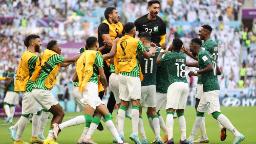 German sponsor Rewe has with immediate effect ended cooperation with the German football association, DFB, because of what it says is FIFA's "scandalous" ban on the 'OneLove' armband.
Lionel Souque, the CEO of major supermarket chain Rewe, called FIFA's ban "scandalous" and "absolutely unacceptable" in a press release Tuesday.
"We stand up for diversity — and soccer is also diversity. We live this attitude and we defend this attitude — even against possible opposition," Souque was quoted in the statement.
"FIFA's scandalous attitude is absolutely unacceptable to me as CEO of a diverse company and as a soccer fan," he added.
The 'OneLove' armband bears a striped heart in different colors to represent all heritages, backgrounds, genders and sexual identities.
Rewe distances itself "in all clarity" from FIFA's position and waives "its advertising rights from the contract with the DFB — especially in the context of the World Cup."
The collector's scrapbook with football pictures currently available at the Rewe grocery stores will be given away free of charge from now on, Rewe said. The revenue of the album's proceeds so far will be donated.
Rewe informed the DFB of its decision on Tuesday, but did send good wishes to the German national team nevertheless. "We are standing by your side and are sharing the team's excitement!" Souque said according to the press release.
Germany and several other nations whose captains had planned to wear the armbands did not do so after FIFA told them they would be booked if they did.
Source link