Top Stories
Democrats slam Texas abortion ruling as Republicans mostly go quiet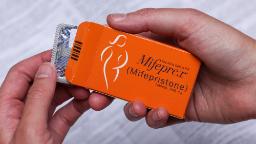 CNN
 — 

A conservative Texas judge on Friday put a dent in the blue wall of abortion rights protections, issuing an order that could suspend approval of a drug used in medication abortions by women across the country – including in states with robust protections in place.
The decision from District Court Judge Matthew Kacsmaryk could represent the biggest blow to abortion rights in the US since the Supreme Court overturned Roe v. Wade last summer. That ruling upended the 2022 midterm elections, prompting a backlash that helped Democrats outperform expectations at almost every level of government.
Kacsmaryk paused his ruling for seven days to allow the federal government to appeal, an opportunity the Justice Department, joined by the drug manufacturer, quickly said it would take. President Joe Biden slammed the decision, calling it "another unprecedented step in taking away basic freedoms from women and putting their health at risk" and warning that the Food and Drug Administration's mission now risked being undermined by "political, ideological attacks."
Further complicating the matter, another federal judge, in Washington state, ruled Friday that the US Food and Drug Administration could not restrict access to the drug, mifepristone, in a separate lawsuit brought by Democratic state attorneys general.
The conflicting federal court decisions have likely produced a legal stalemate that will end up before the US Supreme Court. But the political fallout is already coming into focus, with Democrats at every level of government warning that the Trump-appointed Texas judge's ruling is both gravely unjust and another step by anti-abortion Republicans in their quest to outlaw the procedure nationwide.
This long-brewing judicial clash comes just days after voters in Wisconsin flipped a state Supreme Court seat, and control of the bench, to favor liberals in a historically expensive election that largely hinged on the future of abortion rights in the state – and as political leaders in swing states around the country calculate its implications ahead of the 2024 elections.
"This does not just affect women in Texas," Biden said Friday, "if it stands, it would prevent women in every state from accessing the medication, regardless of whether abortion is legal in a state.
On Friday evening, Democrats and allied abortion advocates quickly lashed out at the Amarillo-based Texas court and a judge that the plaintiffs, led by an anti-abortion group, sought because of his previously stated opposition to abortion rights.
"Today's unprecedented decision threatens the rights of women nationwide to make decisions about their health care and the ability to access medication prescribed to them by their doctors," Vice President Kamala Harris said. "Simply put: this decision undermines the FDA's ability to approve safe and effective medications—from chemotherapy drugs, to asthma medicine, to blood pressure pills, to insulin—based on science, not politics."
Senate Majority Leader Chuck Schumer on Saturday echoed the vice president's comments, calling the ruling an "awful, extreme and unprecedented decision."
"Let's be clear, this is about the Republicans' goal of a nationwide abortion ban," the New York Democrat said on a call with reporters. "This is about stripping away health care for millions of Americans, and this is about MAGA Republicans using the courts to enact an extreme agenda that is wildly unpopular with the American people."
Schumer said Senate Democrats remain committed to passing the Women's Health Protection Act, a bill aimed at preserving abortion access nationwide. The legislation was blocked in the chamber last year after failing to secure enough votes to break the filibuster. It remains unlikely to pass now with Republicans in control of the House and a slim Democratic majority in the Senate.
Republicans have been quieter in response, but this latest setback for abortion rights supporters is another sign of the increasingly tight grip conservatives hold on the courts – an issue poised to play an influential role in the 2024 election.
"If there was ever any doubt that GOP extremists want anything other than a ban on all abortion, everywhere, today's ruling should make it clear that they have no intention of respecting our freedoms," NARAL Pro-Choice America President Mini Timmaraju said in a statement.
Democratic leaders in many states with abortion protections insisted the Texas court decision would not affect access to mifepristone, though it remains unclear how providers will interpret the opposing rulings.
Ellen Rosenblum, the Democratic attorney general of Oregon, said her office was reviewing the orders but made clear this new front in the legal and political fight over abortion was only just taking shape.
"Don't be too distracted by the breaking news out of Texas – we got a BIG WIN in the case led by Oregon and Washington (and joined by 16 other states)," Rosenblum tweeted. "The federal judge in the eastern district of Washington JUST granted our request to preserve access to Mifepristone pending the outcome of our case."
Should Kacsmaryk's ruling ultimately prevail, it would effectively end the two-decade-old approval of mifepristone, the first drug in the medication abortion process. But even if it falls on appeal, his attempt to overrule medical professionals at the FDA over the use of a drug that has been safely and effectively used for so long marks a fraught new chapter in post-Roe American politics.
The long-standing national divide was sharpened last June by the Supreme Court's ruling in Dobbs v. Jackson Women's Health Organization, which ended federal protections for women seeking the procedure, allowing Republican state legislators and executives to pass new restrictions or outright bans. It was a landmark victory for conservatives, but also sparked a backlash that damaged Republicans in more moderate or left-leaning states during last year's midterms.
"Dobbs was supposed to leave abortion laws up to the states. But now, unelected Republican judges are making decisions for every single person in the country. That's going to motivate voters, especially those who are feeling the impact of these anti-abortion rulings for the first time," said Danielle Deiseroth, the interim executive director of liberal think tank and pollster Data For Progress.
Voters in Wisconsin on Tuesday made a clear statement on the potency of abortion politics when they elected liberal judge Janet Protasiewicz to the state's high court. Her victory over a conservative judge aligned with anti-abortion groups all but guaranteed that Democratic Wisconsin Attorney General Josh Kaul's lawsuit challenging the state's abortion ban, an issue at the center of his successful 2022 reelection bid, would prevail – a key selling point during the campaign.
"Our state is taking a step forward to a better and brighter future where our rights and freedoms will be protected," Protasiewicz said in her victory speech this week.
The Texas decision could also bring out new internal dissent within both the Democratic and Republican parties. Some liberal Democrats on Friday night argued that the White House should disregard the order and instruct the FDA to stick to its current position.
"I believe that the Biden administration should ignore this ruling," New York Rep. Alexandria Ocasio-Cortez told CNN's Anderson Cooper shortly after it was issued. "What (the courts) are currently doing is engaged in an unprecedented and dramatic erosion of the legitimacy of the courts."
Ocasio-Cortez also pointed to a statement from Oregon Sen. Ron Wyden, who made a similar argument.
"This devastating ruling has no basis in law and will ban the most common method of abortion in EVERY single state," Wyden tweeted. "President Biden can and must ignore this ruling and keep mifepristone on the market and accessible for every woman in America."
Biden now risks a row with his own party if he does not take a hard line. His response late Friday was fiery, coming with a promise to "fight this ruling." But even as he derided it as "the next big step toward the national ban on abortion that Republican elected officials have vowed to make law in America," Biden did not immediately suggest he would direct the FDA to ignore it.
Republicans could also find themselves at odds with one another as the electoral backlash following Dobbs – the ruling that overturned Roe – becomes more difficult to ignore.
Former President Donald Trump, again a leading candidate for the GOP nomination, has been largely silent about abortion issues. Earlier this year, Trump appeared to blame abortion opponents for the GOP's weak midterm showing, saying that "people that pushed so hard, for decades, against abortion, got their wish from the US Supreme Court and just plain disappeared, not to be seen again."
The effects were clearest in Michigan, where a ballot measure to enshrine a right to abortion, contraception and miscarriage management overwhelmingly passed. Michigan Gov. Gretchen Whitmer, Attorney General Dana Nessel and Secretary of State Jocelyn Benson – all Democrats – won reelection and Democrats flipped control of the state House and Senate.
Now, though, the measure passed by nearly 57% of voters could be undercut by reduced access to a medication abortion pill, which is used in more than half of US abortions.
"In this particular circumstance, what the (Texas case) plaintiffs asked for is essentially for one single judge in one district of one state to make a decision that is going to affect millions of people in all 50 states," Nessel recently told CNN. "And that's incredibly scary."
This story has been updated with additional information.
Source link