Top Stories
Davis Cup 2023 results: Andy Murray misses gran's funeral to give Great Britain lead over Switzerland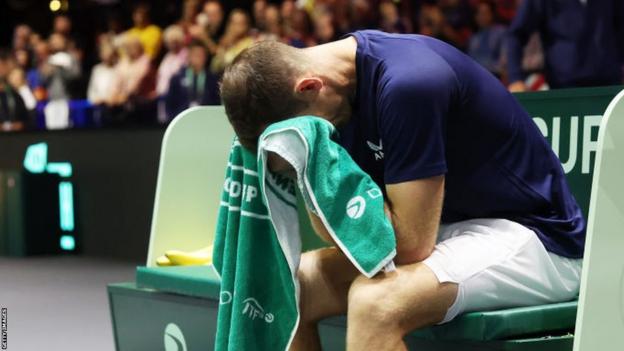 A tearful Andy Murray dedicated a Davis Cup win to his grandmother Ellen after revealing he missed her funeral because it was the same day as his match.
Murray ensured Britain made a winning start against Switzerland by edging past Leandro Riedi 6-7 (7-9) 6-4 6-4.
Overcome with emotion, Murray said: "I'm sorry to my family I'm not able to be there. Gran, this one is for you.
"I spoke to my dad about it and he said 'she'd want you to play'. He said 'make sure you win' – so I did."
Murray sat on his chair, with his head under his towel, before receiving another consoling round of applause from the crowd at Manchester's AO Arena.
It came after the three-time Grand Slam champion showed his quality and experience to come through a tough test on the court.
With Britain aiming for a place in November's eight-team knockout stage, Murray's win in the opening singles match of the group-stage tie means Cameron Norrie can seal victory against the Swiss by beating Stan Wawrinka later on Friday.
If Norrie loses, Dan Evans and Neal Skupski can secure a second straight GB win by taking the deciding doubles.
Even if Britain beat the Swiss in the best-of-three tie, they cannot secure qualification until Sunday's final Group B tie against France.
Four nations – Britain, Australia, France and Switzerland – are playing in the group stage event held at Manchester's AO Arena.
They all play each other once in a round-robin format, with the top two countries going through to the knockout stage – known as the 'Final Eight' – in Malaga in November.
"It's incredible to get through that one – it easily could have gone the other way," said Murray, who helped Britain win the Davis Cup in 2015.
"It was ridiculous the shots he was pulling off, some amazing returning."
Britain clinched victory in Wednesday's opening tie against Australia when debutant Jack Draper and Dan Evans – picked ahead of Murray and Norrie based on their current form – won their singles matches.
In another interesting move on Friday, British captain Leon Smith decided to go with Murray and Norrie against the Swiss as he utilised the whole of a talented squad.
The majority of the home crowd, who watched Murray play in Manchester for the first time since 2004, probably did not expect the former world number one to be pushed so hard by 21-year-old Riedi.
But, as they have seen so often in the past, Murray dug deep into all of his vast physical and mental reserves to secure the victory.



Source link