Top Stories
Daniel Khalife: Police scour London's largest park in search of escaped prisoner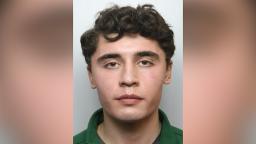 London
CNN
 — 

Police in London are combing through the city's largest park for a fugitive terror suspect who escaped from a prison by strapping himself to the underside of a truck.
The Metropolitan Police said Friday they were searching Richmond Park in southwest London, near where the delivery van Daniel Khalife used to escape Wandsworth prison was spotted on Thursday.
Khalife orchestrated a bold jail break from Wandsworth prison on Wednesday morning while dressed as a chef. The 21-year-old is a serving member of the British military who is awaiting trial on terror charges over allegedly planting fake bombs at a military base, according to the UK's PA Media news agency.
"In response to media enquiries about police activity in Richmond Park, we can now confirm this is linked to the search for Daniel Khalife," a spokesperson for the Met Police said in a statement Friday.
Heavy police activity was reported in the park overnight into Friday morning.
Richmond Park, the largest of London's Royal Parks, is designated National Nature Reserve and stretches for 2,500 acres. A favorite spot for families and people seeking to escape the city, the park is famously home to large herds of deer.
The Met Police said Friday it was looking into the possibility that someone inside Wandsworth prison helped Khalife escape.
Met Police Commissioner Mark Rowley told the UK's LBC radio station that the prison break was "clearly pre-planned."
"The fact that he could strap himself onto the bottom of the wagon, I mean there's obviously some logistics involved inside," he said, adding that the police will look "at everything as part of this investigation."
Rowley added it was "extremely concerning" that Khalife, charged with terror and Official Secrets Act offenses, is "back on the loose" and asked residents in southwestern London to help identify sightings.
The British government pledged on Thursday – the second day of the search – that Khalife would be tracked down.
Police laid out the timeline of Khalife's escape on Thursday.
The soldier was declared missing at 7:50 a.m., they said. The Metropolitan Police were alerted 25 minutes later, and officers tracked down the delivery van at 8:37 a.m. just two miles east of the prison, on a street in Putney, southwest London.
By then, Khalife was gone and all that remained of his escape was the strapping officers discovered under the van.
British Justice Secretary Alex Chalk said the government will launch an independent investigation into the incident. Addressing the UK parliament on Thursday, Chalk said he had already ordered an internal probe into the decision to place Khalife in a lower-security jail.
Opposition MPs in Britain criticized the ruling Conservative government following the jail break, accusing ministers of plunging the judicial system into a parlous state due to years of austerity programs.
Source link