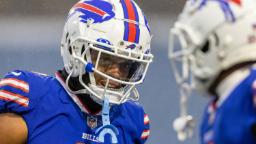 Members of Damar Hamlin's health care team said he is recovering even faster than they'd hoped.
Hamlin had his breathing tube removed early Friday morning, and by Friday afternoon, he was walking with assistance around the medical unit where he was being treated, his doctors said at a news conference Monday.
Dr. Timothy Pritts, a surgeon who has treating Hamlin at UC Health, said he is "continuing to regain strength. He's certainly on what we consider a very normal to even accelerated trajectory from the life-threatening event that he underwent, but he's making great progress."
Pritts said normal recovery from a cardiac arrest could be measured in terms of weeks to months, but Hamlin "has been a little bit ahead of that at each stage."
As they stated Thursday, Hamlin is completely neurologically intact, the doctors said.
"He walks normally. He is admittedly a little weak. I don't think that's of any real surprise after what he went through, just regaining his strength, and that's part of his recovery process," said Dr. William Knight, a neurovascular critical care expert who has been treating Hamlin at UC Health.
The doctors said that in order for Hamlin to be transferred to Buffalo, they needed to be able to upgrade his condition from critical to either fair or good. His condition was upgraded this morning.
"We felt that it was safe and proper to help get him back to the greater Buffalo area," Pritts said. 
The doctors said they were able to upgrade his condition because his organ systems were stable and he no longer needed intensive nursing or respiratory therapy.
Source link