Top Stories
Contract negotiations: UAW strike puts the four-day workweek back in focus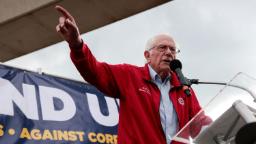 CNN
 — 

When the United Auto Workers called a strike last week against General Motors, Ford and Stellantis, one of their demands focused on an idea circulating on the periphery of labor reform circles.
In addition to calling for a 36% pay raise and increased job security, union members want a 32-hour, four-day workweek with no pay cuts.
Proposals to shorten the workweek have gained traction in recent years, with the flexibility of pandemic-era remote work fueling many of these calls. The accelerating use of artificial intelligence in the workplace has also pushed some workers to question the necessity of a 40-hour week.
Sen. Bernie Sanders has long been a vocal proponent of a shortened workweek.
"We are looking at an explosion in this country of artificial intelligence and robotics. And that means that the average worker is going to be much more productive," the Vermont Independent told CNN's Jake Tapper on Sunday. "The question as a nation that we have to ask ourselves is: Who is going to benefit from this productivity? We should begin a serious discussion — and the UAW is doing that — about substantially lowering the workweek."
Several countries have conducted trials of four-day workweeks, with the largest held in the United Kingdom last year. The trial lasted six months and encompassed about 2,900 workers across 61 companies. Participants reported better sleep, more time spent with their children and lower levels of burnout.
"It would be an extraordinary thing to see people have more time to spend with their kids, with their families, to be able to do more cultural activities, get a better education," said Sanders. "People in America are stressed out for a dozen different reasons, and that's one of the reasons why life expectancy in our country is actually in decline."
A separate study conducted in Iceland between 2015 and 2019 found reducing the number of work days a week did not lower productivity. A similar program in the United States and Canada, composed of dozens of businesses, found none of the companies planned to return to the five-day standard after the trial ended.
Source link