Sports
Conor Benn v Chris Eubank Jr: Eddie Hearn denies fight close to being rescheduled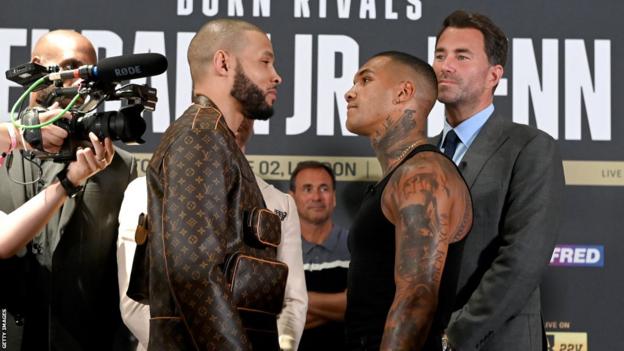 Conor Benn's promoter Eddie Hearn has denied a rescheduled fight with Chris Eubank Jr is close to being finalised.
The bout between the British rivals last October had to be cancelled when it emerged Benn had failed two voluntary drug tests.
Reports on Monday suggested a June fight in Abu Dhabi would be announced.
But speaking to BBC Sport, Hearn said "it's definitely not" signed, and added: "Conor Benn's had a number of offers internationally to fight."
Both sides are in talks to potentially reschedule the fight this year, but discussions are not yet at an advanced stage.
"Manny Pacquiao, Kell Brook was in the office yesterday, he's desperate to fight Conor Benn as well," added Hearn on the options available.
"For me, the fight I want to make is the rescheduled Chris Eubank fight."
Team Eubank, which includes Wasserman Boxing promoter Kalle Sauerland, also remain in talks with Liam Smith about staging a potential rematch this summer.
Eubank, 33, lost to Smith in four rounds in January when the pair clashed in Manchester.
In response to the reports, the British Boxing Board of Control's (BBBofC) general secretary Robert Smith said they would not back Eubank fighting Benn in another country.
Benn gave up his boxing licence in the wake of the doping scandal, but Eubank still holds a licence with the board and fought under their remit when he lost to Smith.
Eubank would need permission from the BBBofC to fight Benn, 26, in Abu Dhabi.
"If the situation remains as it is today then I would think that would be unlikely – but we have not had any applications," Smith told the Guardian.
Smith suggested action can be taken against Eubank, or any trainer or fighter licensed by the BBBofC, who took part in an event with Benn abroad.
It cannot stop a fighter from competing abroad as there is no global authority in boxing, but can suspend a boxer from competing in the UK as a result.
Eubank, though, has no imminent plans to submit an application to the Board to fight Benn abroad.
The pair were scheduled to meet on 8 October at a catchweight of 157lb – 30 years after their fathers Nigel Benn and Chris Eubank Sr fought.
But the BBBofC says Benn has not co-operated with their investigation into his failed drug tests.
The fighter has repeatedly insisted he is innocent of intentionally doping, and sanctioning body the WBC reinstated him into their rankings last month after finding a "highly-elevated consumption of eggs" could have caused the positive results.
Benn denied he offered eggs as an excuse and instead said he had concerns about the testing protocols.
UK Anti-Doping are investigating the two positive tests, which were administered by the Voluntary Anti-Doping Association.
Hearn said Benn needs to meet with the BBBofC, but raised concerns about the UK governing body from interfering in his boxer's efforts to fight abroad.
"This isn't a case of finding somewhere where Conor Benn can fight," he added. "Conor Benn can fight in any country in the world, but not in the UK – and we want that to change.
"For the Board to talk about trying now to contact other people to stop an individual, an athlete from competing with another commission or in another territory is going to cause them a major problem.
"It gets right on my nerves that the Board wants to deflect all the blame on this to other people taking responsibility of how they acted.
"Conor needs to sit down with the Board, but when it reacts in the way it does, how do you expect him to want to sit down with that jurisdiction and also believe he's going to be treated be fairly."
BBC Sport reached out to the British Boxing Board of Control but it declined to comment.
Source link