Top Stories
Colombia plane crash: Missing children found after more than a month in Amazon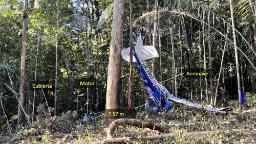 CNN
 — 

Four young children have been found alive after more than a month wandering the Amazon where they survived like "children of the jungle," according to Colombia's President Gustavo Petro.
"Their learning from indigenous families and their learning of living in the jungle has saved them," Petro told reporters on Friday, after announcing on Twitter that they had been found 40 days after they went missing following a plane crash that killed their mother.
Petro said the children were all together when they were found, adding they had demonstrated an example of "total survival that will be remembered in history."
"They are children of the jungle and now they are children of Colombia," he added.
Revealing their discovery earlier in the day, the Colombian president had tweeted an image that seems to show search crews treating the children in a forest clearing, along with the words: "A joy for the whole country!"
Their grandmother, María Fátima Valencia, said she was "going to hug all of them" and "thank everyone" as soon as they were reunited in their home city of Villavicencio, where they live.
"I'm going to encourage them, I'm going to push them forward, I need them here," she said.
The children, who appear gaunt in the photos, are being evaluated by doctors and will be taken to the town of San Jose del Guaviare. They are expected to receive further treatment in Bogota, the capital, according to Defense Minister Ivan Velasquez.
"We hope that tomorrow they will be treated at the military hospital," he said, while praising the Colombian military and indigenous communities for helping find them.
Petro said the children were weak, needed food and would have their mental status assessed. "Let the doctors make their assessment and we will know," he added.
Lesly Jacobombaire Mucutuy, age 13, Soleiny Jacobombaire Mucutuy, 9, Tien Ranoque Mucutuy, 4, and infant Cristin Ranoque Mucutuy were stranded in the jungle on May 1, the only survivors of a deadly plane crash.
Their mother, Magdalena Mucutuy Valencia, was killed in the crash along with two other adult passengers: pilot Hernando Murcia Morales and Yarupari indigenous leader Herman Mendoza Hernández.
The children's subsequent disappearance into the deep forest galvanized a massive military-led search operation involving over a hundred Colombian special forces troops and over 70 indigenous scouts combing the area.
For weeks, the search turned up only tantalizing clues, including footprints, a dirty diaper and a bottle. Family members said the oldest child had some experience in the forest, but hopes waned as the weeks went on.
At some point during their ordeal, they'd had to defend themselves from a dog, Petro said.
He called the children's survival a "gift to life" and an indication that they were "cared for by the jungle."
The Colombian president said he had spoken with the grandfather of the children who said that their survival was in the hands of the jungle which ultimately chose to return them.
The grandfather, Fidencio Valencia, said he and his wife had endured many sleepless nights worrying about the children.
"For us this situation was like being in the dark, we walked for the sake of walking. Living for the sake of living because the hope of finding them kept us alive. When we found the children we felt joy, we don't know what to do, but we are grateful to God," he said.
The children's other grandfather, Narcizo Mucutuy, said he wants his grandchildren to be brought back home soon.
"I beg the president of Colombia to bring our grandchildren to Villavicencio, here where the grandparents are, where their uncles and aunts are, and then take them to Bogota," he said.
Indigenous leader Lucho Acosta, the coordinator of indigenous scouts, credited the "extra effort" of search and rescue teams and local authorities to find the children in a statement on Friday.
"They all added a little effort so that this Operation Hope could be successful, and we can hope the kids will emerge alive and stronger than before. We have been hoping together with the strength of our ancestors, and our strength prevailed," he said.
"We never stopped looking for them until the miracle came," the Colombian Defense Ministry tweeted.
During a press conference Friday evening, Petro said he hoped to speak with the children on Saturday.
"The most important thing now is what the doctors say, they have been lost for 40 days, their health condition must have been stressed. We need to check their mental state too," he said.
Petro, who was previously forced to backtrack after mistakenly tweeting that they had been found last month, described the children's 40-day saga as "a remarkable testament of survival."
Source link