Top Stories
China's Xi to meet Putin in Russia next week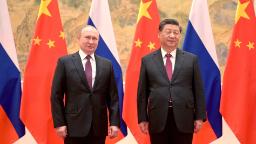 CNN
 — 

Chinese leader Xi Jinping will visit Russia next week at the invitation of President Vladimir Putin, the Chinese Foreign Ministry announced Friday.
It will be Xi's first visit to Moscow since Putin launched his devastating invasion of Ukraine more than a year ago.
During the visit, Xi and Putin will discuss "strategic cooperation" between the two countries, according to the Kremlin.
"During the talks, topical issues of further development of comprehensive partnership relations and strategic cooperation between Russia and China will be discussed," the Kremlin said in a statement Friday.
"An exchange of views is also planned in the context of deepening Russian-Chinese cooperation in the international arena," the Kremlin added. "A number of important bilateral documents will be signed."
The visit comes as China tries to present itself as a neutral peace broker on Ukraine, but the effort has been met with skepticism in Western capitals due to Beijing's growing partnership with Moscow.
Xi and Putin declared a "no-limits" friendship in February last year, when the Russian leader visited Beijing for the opening ceremony of the Winter Olympics.
Weeks later, Russian tanks rolled into Ukraine.
Since then, China has refused to condemn Russia's invasion – or referred to it as such, instead blaming the advance of NATO for provoking the conflict and repeating the Kremlin's stance.
It has also provided diplomatic support for Moscow, while strengthening economic and military ties to its northern neighbor.
In recent weeks western officials have begun publicly raising concerns that China may be considering providing Russia with lethal military assistance, an accusation denied by Beijing.
Last month, Putin hosted China's top diplomat Wang Yi in Moscow just days before the anniversary of the Kremlin's full-scale invasion of Ukraine. The high-profile visit was widely believed to be a precursor to a meeting between Putin and Xi.
Putin told Wang relations between his country and China are "reaching new milestones," while Wang vowed to "further strengthen our comprehensive strategic partnership."
Wang arrived in Moscow after US officials went public with concerns about how China's continuing partnership with Russia could have an impact on the war in Ukraine — and hours after Putin made a major speech on the conflict, in which he announced plans to suspend Russia's involvement in its last remaining nuclear arms treaty with the US.
Putin and Xi last held a virtual meeting in December, in which the Russian leader described relations between the two nations as "the best in history," saying they could "withstand all tests." Putin also invited Xi to visit Moscow in the spring of 2023.
The two leaders has forged a close personal connection, with Xi describing Putin as a "best friend" in 2019. Xi has met Putin in person 39 times since becoming China's leader, most recently in September during a summit in central Asia.
Source link