Sports
Chelsea Pitman: England's Commonwealth gold medal winner retires from international netball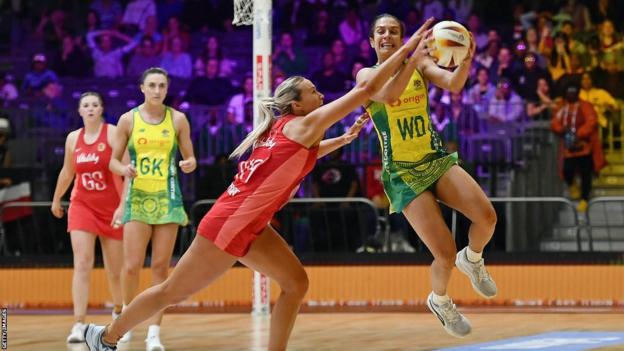 England's Chelsea Pitman, part of the gold-medal-wining squad at the 2018 Commonwealth Games, has announced her retirement from international netball.
Pitman says she wants to use retirement to "delve a bit deeper" into pregnancy problems she has experienced.
She said the decision to retire was "extremely tough" but said "it's the right time for me".
Born in Australia, Pitman won World Cup gold in 2011 with The Diamonds before switching allegiances to England in 2017.
In 2020, while playing for Australia's Suncorp Super Netball side Adelaide Thunderbird, she posted on social media that she'd had two miscarriages and an ectopic pregnancy – where an egg implants in a fallopian tube rather than the womb – in two years.
In 2021, she told BBC World Service that it is time to "start a conversation" about miscarriage and the challenges facing female athletes trying to start a family while still competing at an elite level.
"I haven't been secretive with saying that I've tried to become a mum in the past and that I've had issues, and I think it's time that I delve a bit deeper into why my body failed me when it comes to that," she said in a statement announcing her retirement on Monday.
Pitman played in the team that won England's first major netball medal at the Commonwealth Games on the Gold Coast in 2018, and won World Cup bronze in 2019 as well as this year's silver medal.
"I'm so thankful for the opportunity to be able to call myself a Rose, for saying 'yes, put me up for selection!' – because if I didn't do that, how boring my life would have been. Because I have made the best of friends, and I have made and created history," she added. "We achieved things that people thought were impossible for us."
At club level, Pitman won the ANZ Premiership with Queensland Firebirds, a Suncorp Super Netball title with West Coast Fever and was co-captain of Adelaide Thunderbirds.
After taking a year away from the court to train as a police officer, she returned to netball in 2022.
She played in the Vitality Super League last season with London Pulse, helping them to reach their first Grand Final where they were beaten 57-48 by Loughborough Lightening.
Vitality Roses head coach Jess Thirlby said: "I would firstly like to say what an absolute pleasure it has been to work with Chelsea over the past few years.
"She has not only inspired so many with her on-court flair, netball nous and competitive spirit, but I have such admiration and respect for her as a person.
"Chelsea wears her heart on her sleeve and her passion for the Roses and commitment to pull on the red dress is unquestionable. It not only means a lot to her, but we have been richer for having her as a Rose."