Top Stories
California school district policy requiring parents to be notified of child's request to change their gender identity is blocked by judge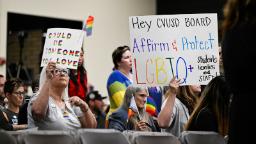 CNN
 — 

A judge in San Bernardino, California, has temporarily blocked a school district policy that requires parents to be notified when their child asks to be recognized by a different gender identity or pronoun than they were assigned at birth.
Superior Court Judge Thomas S. Garza issued a temporary restraining order Wednesday against portions of the Chino Valley Unified School District's new policy that address gender and sex "out of an abundance of caution," saying the case must be handled delicately going forward due to its sensitive nature.
"The concern is, how do we safeguard these students that identify as LGBTQ?" Garza said in court. "And in my view, it's a situation that is singling out a class of protected individuals differently than the rest of the students."
The ruling comes after California Attorney General Rob Bonta sued the school district last month over the policy, which was adopted in July. Bonta slammed the "forced outing policy" as a threat to the wellbeing of "non-conforming students who lack an accepting environment in the classroom and at home."
Bonta praised the Wednesday ruling in a statement, saying it "rightfully upholds the state rights of our LGBTQ+ student community and protects kids from harm."
"While this fight is far from over, today's ruling takes a significant step towards ensuring the physical, mental, and emotional well-being of transgender and gender-nonconforming students," the attorney general said.
The disputed policy is one of several similar policies being implemented in other states, including in Texas and New Jersey, and comes as conservative lawmakers nationwide move to limit LGBTQ people's rights to access health care, use bathroom facilities and participate in sports, among other everyday activities.
Portions of the district policy that address parental notification regarding suicide attempts, threats and bullying are not impacted by the judge's order and remain in effect.
School district spokesperson Andi Johnston said its staff "respects" the judge's order and "will continue to fulfill its purpose of creating and maintaining a collaborative relationship between school and home."
School district president Sonja Shaw has previously defended the policy and denied concerns that it could harm students.
"If a child is coming to their teacher and asking to be called something other than what they were born as, they're already asking to be out in the public about it," Shaw said last month. "The parent has every right to know about that."
The next hearing in the case is scheduled for October 13.
Source link