Top Stories
Boris Johnson, UK Prime Minister, to resign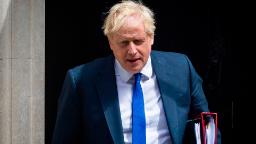 Caroline Johnson and Luke Hall, deputy chairs of the Conservative Party, and Rob Butler, a Parliamentary Private Secretary (PPS) at the Foreign Office, announced their resignations on Thursday. 
In her letter to UK Prime Minister Boris Johnson posted on Twitter, Caroline Johnson said "it is with great sadness, however, that I recognize that over time the cumulative effect of your errors and judgment and domestic actions have squandered the goodwill of our great Party, Conservative colleagues, and many of my constituents."
Hall in a letter to the prime minister said that "I had taken the view that there must be parliamentary oversight of the inevitable leadership contest. However, there are others who can provide that. The current situation is clearly untenable."  
Butler also shared his resignation letter to the prime minister on Twitter, saying: "Loyalty is rightly highly regarded in politics; we succeed as a team. But I can no longer reconcile loyalty to you as Prime Minister."
A total of 58 ministers have resigned from the government.
Source link