Top Stories
Biden administration could soon approve sending controversial cluster munitions to Ukraine

Washington
CNN
 — 

The Biden administration is strongly considering approving the transfer of controversial cluster munition warheads to Ukraine, multiple people familiar with the matter told CNN, as the Ukrainians struggle to make major gains in their weeks' old counteroffensive.
Officials told CNN that a final decision is expected soon from the White House, and that if approved, the weapons could be included in a new military aid package to Ukraine as soon as next month.
"These would undoubtedly have a significant battlefield impact," a US official told CNN.
Changing battlefield conditions inside Ukraine over the last two weeks have prompted US officials to give the cluster munitions renewed and serious consideration, officials told CNN.
Ukrainian officials have been pushing the US to provide the munitions since last year, arguing that they would provide more ammunition for Western-provided artillery and rocket systems, and help narrow Russia's numerical superiority in artillery.
But the US had been reluctant to provide them because of the risk they could pose to civilians, and because some key US allies, including the UK, France and Germany, are signatories to a ban on cluster munitions – weapons that scatter "bomblets" across large areas that can fail to explode on impact and can pose a long-term risk to anyone who encounters them, similar to landmines.
The Ukrainian counteroffensive launched earlier this month, however, has not made as much progress as US officials hoped it would by this point, with Russian lines of defense proving more well-fortified than anticipated.
And it is not clear whether the heavy amount of artillery ammunition the Ukrainians have been expending day-to-day is sustainable if the counteroffensive drags on, officials and military analysts said.
Cluster munitions, which the US has stockpiled in large numbers since phasing them out in 2016, could help fill that gap, officials said.
Administration officials also believe they have managed to alleviate some allies' concerns about the US transferring the munitions, officials said.
The US official noted that the weapon would not be a new capability for Ukraine. Both the Ukrainians and the Russians have used cluster bombs since Russia invaded Ukraine in February, and more recently, Ukrainian forces have begun using Turkish-provided cluster munitions on the battlefield.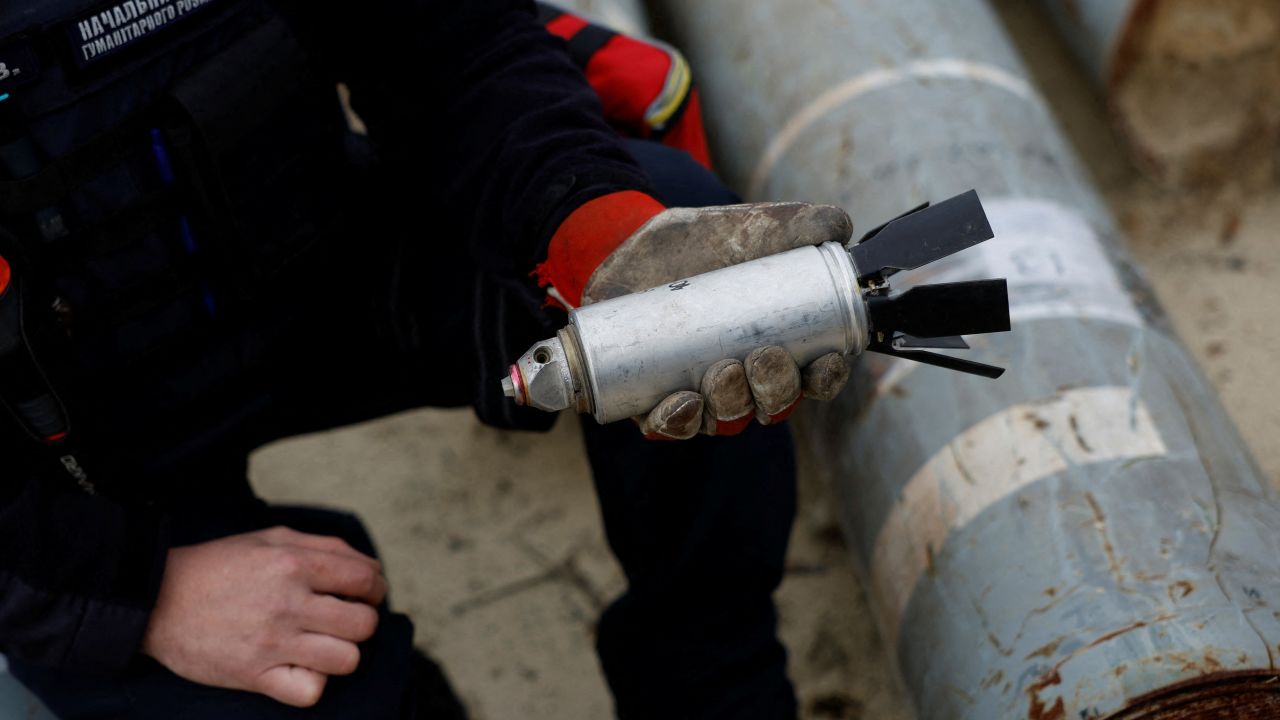 The Russians – who also used the munitions to devastating effect on civilians in Syria – have used them more often and against civilian targets, including parks, clinics and a cultural center, according to an investigation by Human Rights Watch.
The first sign that momentum was building for the US to provide the munitions came last week, when a senior Pentagon official said during a public House Foreign Affairs subcommittee hearing that the department believes the munitions would be "useful" on the battlefield.
"Our military analysts have confirmed that DPICMs would be useful, especially against dug-in Russian positions on the battlefield," Laura Cooper, the deputy assistant secretary of defense for Russia, Ukraine and Eurasia, told lawmakers. DPICMs stands for dual-purpose improved conventional munitions, the official name for the type of cluster munitions that the US has in its stockpile.
The Ukrainians have been asking the administration for cluster munitions compatible with both the US-provided HIMARS rocket launchers and the 155 mm howitzers, and have argued that the munitions would allow Ukrainian troops to more effectively attack larger, more dispersed targets like concentrations of Russian soldiers and vehicles.
Cooper said last week that the US has not yet provided the munitions both because of "existing congressional restrictions on the provision of DPICMs and concerns about allied unity."
The US and Ukraine are not signatories to the cluster munition ban. But the US began phasing out its use of the DPICMs in 2016 because they "contained hundreds of smaller 'cluster bomb' explosives that were often left unexploded across the battlefield, posing a danger to civilians," according to a 2017 statement from Central Command.
One Ukrainian lawmaker told CNN that 30% of their territory is mined, and that Ukraine de-mines it when they go in. The US State Department announced last August that they intended to provide $89 million in support of de-mining efforts in Ukraine, with a State Department official noting that "this is a challenge that Ukraine will face for decades."
Still, the Ukrainians have told US officials that they could make good use of the cluster munitions currently gathering dust in storage as western ammunition supplies dwindle.
Congress has also placed statutory restrictions on the US' ability to transfer cluster munitions that have a greater than one percent unexploded ordnance rate, which raises the prospect that they will pose a risk to civilians.
But President Joe Biden could override that restriction, officials told CNN. Bipartisan members of Congress have also expressed support in recent months for sending the munitions.
Ukrainian lawmaker Oleksiy Goncharenko is among the officials who has been pushing the US to provide the munitions. He previously told CNN that with the cluster munitions, "Ukraine will finish this war much faster, to the benefit of everybody."
"Russia is extensively using the old styles, the most barbaric styles, of cluster munitions against Ukraine," Goncharenko told CNN in December. "Personally, I was a victim of this. I was under this shelling. So we have all the right to use it against them."
Source link