Top Stories
Autoworkers strike: What to watch for as the clock ticks down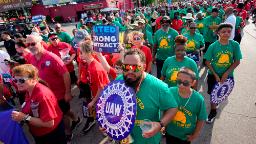 New York
CNN
 — 

Time is running out to avert a strike that could shut down America's unionized auto assembly plants and other manufacturing facilities.
The United Auto Workers contracts with General Motors, Ford and Stellantis expire at 11:59 pm Thursday. The contracts cover 145,000 UAW members at the three companies.
If there's no new deal by the contract expiration, the union has said it will start targeted strikes against a undisclosed number of facilities at each company.
Here's what to watch as the clock ticks down:
It might not take much to virtually shut down the output from all the companies.
The companies operate a complex network of plants that depend on getting parts from different facilities.
Slowing or stopping the production of a few engine or transmission plants at each company could be as effective at stopping operations as a full strike at all plants, according to industry experts.
One engine or transmission location per company might be enough to shut down nearly three-quarters of the US assembly plants, said Jeff Schuster, global head of automotive for GlobalData, an industry consultant.
"Two plants per company, you can pretty much idle North America," he said.
Halting the companies' assembly lines would likely happen in less than a week that way, Schuster said.
One advantage of a targeted strike for the union is the potential to save resources and extend a possible walkout. Striking union members are eligible for $500 a week from the union's strike fund.
If all 145,000 UAW members among the three automakers were to strike at the same time, it could cost the fund more than $70 million a week, draining the $825 million fund.
With targeted strikes, it's possible that the companies will shut down operations and lay off members who are not technically on strike. That could make them eligible to receive state unemployment benefits rather than strike benefits, which could preserve the union's resources. But there are legal questions about qualifying for unemployment.
UAW President Shawn Fain told his members in a Facebook Live appearance Wednesday evening that if they are not in one of the plants that the union picks to go on strike, they should stay on the job. He said in that case they would be working under an expired contract, rather than on an extended contract.
Fain said he would announce at 10 pm Thursday which plants have been selected to go on strike. Among the likely targets, Schuster said, are a Stellantis transmission plant in Kokomo, Indiana, a GM transmission plant in Toledo, Ohio, and a Ford transmission plant in Livonia, Michigan. Those three plants have just over 6,000 UAW members on staff, according to figures available from the companies' websites.
But there is still a chance no plants will go on strike and no operations will be disrupted. While Fain warned members that a strike appeared likely – "We're likely going to have to take action," he said during his remarks Wednesday – he also said there had been movement at the bargaining tables.
Fain said that all the automakers had boosted the amount they were offering to raise wages, with Ford now offering a 20% raise during the life of the contract, GM is offering 18% and Stellantis is offering 17.5%, although Fain cautioned that still did not meet the union members' needs, which had started with a demand for an immediate 20%, and four additional raises of 5% each over the course of a four-year deal.
And all the automakers issued statements saying they want to reach tentative labor deals before the deadline that would avoid a strike. Despite the difference, there is a chance for an 11th hour settlement or settlements.
There are separate union contracts at each of the traditional Big Three. That means there could be a tentative labor deal reached at Ford and GM that keeps those workers on the job, while the employees at Stellantis could go out on strike.
Ford has not had a national strike since 1976 and has not had a strike of any kind at its US plants since 1978.
In contrast, experts say Stellantis, which builds vehicles under the Jeep, Ram, Dodge and Chrysler brands, could see workers walk off.
"I think there's a 99% chance of a strike at Stellantis," said Art Wheaton, director of labor studies at Cornell University's Industrial and Labor Relations school in Buffalo.
If the two sides are close to a deal at the deadline, they could agree to a temporary contract extension for hours or even days. That extension could even go on for months, as with the West Coast ports during negotiations with the International Longshore and Warehouse Union last year and earlier this year.
Fain has repeatedly said that the 11:59 pm contract expiration is a "deadline, not a reference point." In past negotiations, the union has sometimes chosen only one automaker to strike, while staying on the job at the other two. Once a deal was reached, the union moved to get the other automakers to accept that "pattern" as the basis for their own contract.
But Fain insists the union will not follow that playbook this time.
Sometimes one or both sides will walk away before the final minute before a contract expiration. Although the strike might not start until after the deadline, a breakdown of talks could kill the chance for an 11th-hour deal.
That's what happened in bargaining in May between the Writers Guild of America, which represents 11,000 writers, and the Alliance of Motion Picture and Television Producers, which represents major studios and streaming services in the contract negotiations. While the contract was due to end at midnight PDT, the talks ended about three hours earlier.
Sometimes after talks break down, the parties can return to the table and reach a deal without a strike. That happened in July at UPS, as talks between the company and the Teamsters union ended after a marathon negotiating session in the early hours of July 5. Official talks did not resume for nearly three weeks. But when the two sides met again on July 25, they quickly reached a deal that averted an August 1 strike.
But a break in talks at any of the automakers at this late date would not be a good sign.
Source link