Sports
Australian Open 2023: 4am finishes in tennis a 'farce' says Andy Murray
Venue:
Melbourne Park
Dates:
16-29 January
Coverage:
Commentary every day from 07:00 GMT on BBC Radio 5 Sports Extra 'Tennis Breakfast' live from Melbourne, with selected live text commentaries and match reports on the BBC Sport website & app
Andy Murray says finishing his second-round match at the Australian Open at 4am was a "farce".
The 35-year-old's arduous five-set win over home favourite Thanasi Kokkinakis took over five hours 45 minutes.
That followed Murray's first-round victory on Tuesday, when the Briton sealed victory in four hours and 49 minutes against Italian Matteo Berrettini.
"I don't know who it's [the late finish] beneficial for," said Murray at the Rod Laver Arena after the match.
"We come here after the match and that's what the discussion is, rather than it being like, 'epic Murray-Kokkinakis match'. It ends in a bit of a farce.
"Amazingly people stayed until the end, and I really appreciate people doing that and creating an atmosphere for us. Some people obviously need to work the following day and everything."
Murray was two sets down and looked to be heading out of the competition before digging deep to defeat 25-year-old Kokkinakis, who is ranked 159th in the world, 4-6 6-7 (4-7) 7-6 (7-5) 6-3 7-5.
He will face Spanish 24th seed Roberto Bautista Agut in the third round.
The rowdy fans inside the venue were treated to a fine spectacle from both players – despite it approaching the six-hour mark – but Murray also highlighted another problem with overly-long matches.
"If my child was a ball kid for a tournament and they're coming home at five in the morning, as a parent, I'm snapping at that. It's not beneficial for them," said the three-time Slam winner.
"It's not beneficial for the umpires, the officials. I don't think it's amazing for the fans. It's not good for the players."
The match start time of 22:20 was also an issue, according to Murray.
"We talk about it all the time, and it's been spoken about for years," said the Scot. "But when you start the night matches late and have [cold] conditions like that, these things are going to happen."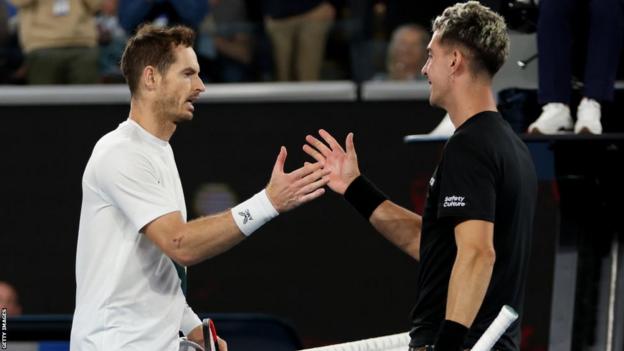 Players can't compete 'into the wee hours of the morning'
Jamie Murray had to watch his younger brother's frustration boil over on court as Andy asked why he and Kokkinakis were "still playing at 3am" after the Scot lost a point.
Taking to Twitter, the older Murray, 36, who is taking part in the men's doubles at the tournament, wrote: "Time for tennis to move to only one one match at the night sessions at Grand Slams.
"This is the best outcome for ALL singles players.
"We can't continue to have players compete into the wee hours of the morning. Rubbish for everyone involved – players/fans/event staff etc."
Jamie Murray's thoughts were echoed by 18-time Grand Slam singles champion Martina Navratilova, who wrote that the sport needs to find alternative solutions.
"It is essential we create better rules in tennis regarding the weather (light and wind) and starting times or cut-off times for matches," said the 66-year-old.
"Murray and Kokkinakis will finish around 4am. Crazy – no other sport does this."
The issue of playing hours and late night tennis is a topic Andy Murray has raised before.
During Great Britain's Davis Cup defeat by the United States last year, the former word number one was on court with doubles partner Joe Salisbury until 01:00 GMT.
"It's something that tennis needs to sort of have a bit of a think about," Murray said then. "I don't think it looks that professional."
Players

Tournament

Finish time (local)

Alexander Zverev bt Jenson Brooksby

Acapulco 2022, first round

04:54

Lleyton Hewitt bt Marcos Baghdatis

Australian Open, third round, 2008

04:34

Sam Querrey/Jack Sock bt Simone Bolelli/Fabio Fognini

Davis Cup, 2019

04:04

Andy Murray bt Thanasi Kokkinakis
Australian Open, second round, 2023
04:05

Andreas Seppi bt Bobby Renyolds

Australian Open, first round, 2007

03:34

Benjamin Becker bt Jiri Novak

Tokyo Open, third round, 2006

03:24

Rafael Nadal bt Pablo Cuevas

Rio 2016 Olympics qualifying, 2015

03:18

Andy Murray bt Marius Copil

Citi Open, Washington, third round, 2018

03:02
'We are seeing something truly incredible with Murray'
The fact that Murray has a metal hip and is 10 years older than Kokkinakis makes his win in Australia – the longest contest of his career – even more mesmerising.
"His fitness level at the moment is sublime," Amanda Owens, sports psychologist and former tennis player, told BBC Radio 5 Live.
"To hold intense focus, for over five hours and nearly 46 minutes, is tremendous – and the resilience that Murray shows…
"That was apparently his 11th match that he has come back from two sets down and that shows how determined he is and using these experiences to win matches.
"People can learn from this. It was absolutely incredible."
So, how on earth do Murray and other top professionals find a way to overcome the tiredness and power themselves to victory?
"Mentally, it's about believing and self-belief but also knowing the processes and knowing you can do it," says Owens. "Especially when you're under pressure at the critical point.
"That resilience grows with the amount of experience he's got with coming back from two sets down but it's something that one can learn – absolutely. And not just in sports, in life as well.
"But the determination and fortitude of Murray, I really think we are seeing something truly incredible here."