Sports
Arsenal: Laura Wienroither fourth player to suffer ACL injury this season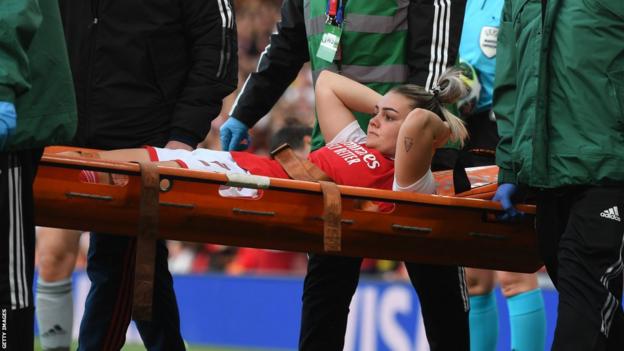 Defender Laura Wienroither has become the fourth Arsenal player to suffer an anterior cruciate ligament injury this season.
The 24-year-old Austria international was carried off on a stretcher in Monday's Champions League second-leg semi-final defeat by Wolfsburg.
Leah Williamson, Beth Mead and Vivianne Miedema also have the same injury.
"I'm going to miss every single second of not being on the pitch with this special team," Wienroither said.
"I'll fight like hell to return as soon as I'm ready to get back to following my dream in red and white.
"Until that time, I'm Arsenal and Austria's biggest fan.
"I'm so proud to be a part of this group and to share experiences with these girls – on and off the pitch."
Miedema, who ruptured her ACL in December, shared a message of support for her fellow injured team-mates on Instagram: "At least we will all be in the gym together.
"PS the ACL group is full now. Please no more."
ACL injuries typically keep players out for six to nine months.
Arsenal said Wienroither, who joined from TSG 1899 Hoffenheim in January 2022, will have surgery in "due course".
The Gunners are fourth in the Women's Super League – the top three qualify for the Champions League – with five games remaining.