Top Stories
Architect of the Capitol fired following calls for his resignation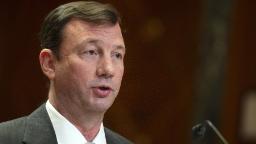 CNN
 — 

President Joe Biden fired Architect of the Capitol J. Brett Blanton on Monday following allegations that he misused government resources and was not physically present on the Capitol grounds during the January 6, 2021, insurrection, a White House official said.
Biden "terminated" Blanton amid bipartisan calls for his firing or resignation, including from House Speaker Kevin McCarthy earlier Monday, the official said.
"After doing our due diligence, the Architect of Capitol was terminated at the President's direction," the White House official said.
In the fall, an inspector general report accused Blanton of abuse of government property and wasting taxpayer dollars by allowing his family to drive a government-owned vehicle and taking the vehicle on out-of-town trips to South Carolina and Florida, according to the report. The federal watchdog also accused Blanton, who was appointed by former President Donald Trump, of ethics violations over an offer to provide tours to "patriots" weeks before the November 2020 election.
Blanton, was grilled last week by members of the House Committee on Administration during a hearing to review a federal watchdog report. The report accused Blanton of ethics violations, abuse of government funds and wasting taxpayer money. In Thursday's hearing, lawmakers on both sides of the aisle jumped on learning that Blanton was not physically present on Capitol grounds on the day of the insurrection, January 6, 2021.
CNN has reached out to the office of the Architect of the Capitol for response to McCarthy's call for Blanton's resignation.
In Thursday's hearing, Blanton unequivocally denied that he did anything unethical.
"I wholeheartedly reject any assertion that I have engaged in unethical behavior during my service to this country while serving in this particular role, I have taken my commitment to transform the agency's culture to promote positive workplace for every AOC employee," Blanton said. "Moreover, I have fully invested to ensure that I meet the responsibilities and the expectations of this role."
In an exchange with the committee chairman, Republican Rep. Bryan Steil of Wisconsin, Blanton defended not being at the Capitol during the insurrection because he claimed he was unable to drive there since there were so many people on the grounds. Blanton also stated that on January 6 he was using his official vehicle as the Architect of the Capitol's mobile command post.
Steil also called for Blanton to resign Monday.
Other members, including the ranking Democrat, Rep. Joe Morelle of New York, jumped on the admission by Blanton to question why he remained in the "mobile command center."
"If you need to be tethered, and if you needed a vehicle to be here, why did you make the decision not to come here and could you not have without the vehicle and all the emergency equipment that's attached to it? Could you not have fulfilled the same function at home using a cell phone?," Morelle asked Blanton.
Blanton responded that he did not have police radios and sufficient equipment in his house.
Blanton is one of three voting members of the United States Capitol Police Board, which oversees the USCP. His responsibilities include overseeing the Capitol's property management and operations.
After recounting her experience of being stranded on a balcony during the insurrection, Democratic Rep. Norma Torres of California grew visibly frustrated.
"I am outraged that you would be in a comfortable place while the rest of us were thinking about dying that day and how we were going to come out alive that day, outrageous that you were not here," she said.
This story and headline have been updated with additional developments.
Source link