Top Stories
Analysis: This Republican senator made an incredibly insensitive remark about red flag laws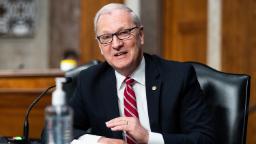 But that's exactly what North Dakota Republican Sen. Kevin Cramer did on Tuesday when asked about red flag measures, which are designed to help keep guns out of the hands of people identified as an immediate risk to themselves or others. The legislation was spurred by the mass school shooting in Uvalde, Texas, last month.
"We aren't going to pass a federal red flag law, and we shouldn't. So why would we incentivize states to do something that we think is a bad idea? There is some confusion about what it actually does and that is what they are trying to clarify. … I think we are more interested in red waves than we are in red flags quite honestly as Republicans, and we have a good opportunity to do that."
Yup. That's what Cramer really said, which boils down to this:
1) Republicans are more focused on winning back majorities in the House and Senate this fall than passing gun legislation.
2) He believes passing measures like red flag laws are bad politics for Republicans.
The thing about Cramer's remark is that there is some truth there. Republicans know that the midterm elections are shaping up to be a very good for them, and they don't want to do anything to cross their political base.
Odds still favor some sort of gun deal in the Senate, but it looks like less of a certainty today than it did 72 hours ago.