Top Stories
Analysis: 6 questions I hope Pat Cipollone answered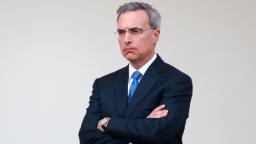 Nothing of the substance of what Cipollone said (or didn't say) has emerged from the closed-door meeting, which was recorded on video.
What we do know is that Cipollone's testimony is absolutely critical in terms of filling out the picture of what Trump did (and didn't do) on January 6, 2021 — as well as the days leading up to it.
I've thought up a few questions — some big-picture, some more specific — that I am really hoping the committee got Cipollone to answer.
1. What did Cipollone say to Trump in the January 3 meeting in which the then-President contemplated making Jeffrey Clark the attorney general?
We know, thanks to the committee and various witnesses, that a meeting that included Cipollone was convened at the White House on January 3 — a gathering in which Trump actively considered putting environmental lawyer Jeffrey Clark into the job of acting attorney general. (Clark had no qualifications for the job, but he was willing to throw the weight of the Department of Justice behind Trump's phony election fraud claims.) Trump was eventually talked out of the move. What did Cipollone say in that meeting? What was Trump's response?
2. What was Trump doing during the afternoon of January 6?
This, to me, may be the area where Cipollone can shine the most light. We've gotten bits and pieces of Trump's actions that day, but much remains unknown. Cipollone was in the White House dining room for at least part of the time while Trump was watching what was happening at the Capitol. Remember that Trump didn't issue a statement telling the rioters to disperse until 4:17 p.m. ET?
3. What, specifically, did Trump say about chants of "Hang Mike Pence"?
Cassidy Hutchinson, a former aide to White House chief of staff Mark Meadows,
told the committee
last week that she heard Meadows tell Cipollone that Trump said he did not think the rioters were doing anything wrong — and that then-Vice President Mike Pence was getting what he deserved. Cipollone he should be able to shine a light on what, exactly, was said.
4. Why did Cipollone feel so strongly that Trump shouldn't go to the Capitol after the "Stop the Steal" rally?
Hutchinson has testified that Cipollone not only didn't want Trump to go the Capitol, but that the White House counsel's office didn't even want the President to mention marching to the Capitol in his speech. (Trump ignored that advice; "I know that everyone here will soon be marching over to the Capitol building to peacefully and patriotically make your voices heard," the President said at the time.) Hutchinson said that in his warnings to her, Cipollone said of a presidential trip to the Capitol: "We're going to get charged with every crime imaginable if we make that movement happen." What, specifically, was Cipollone worried about?
5. How concerned was Cipollone about the
25th Amendment
being invoked against Trump?
In Trump's speech the day after the insurrection, Cipollone, again, according to Hutchinson, wanted language in the remarks that made clear that the President believed those involved in the riot should be prosecuted. (Trump included no such language.) Hutchinson said that Cipollone's motivation was that he had a "large concern of 25th Amendment potentially being invoked." Did he? If so, why?
6. Did Cipollone consider resigning during the latter stages of Trump's presidency (or on January 6 itself)?
In a previous January 6 committee hearing, former Trump White House aide Jared Kushner suggested that Cipollone and his team "were always saying, 'Oh, we're going to resign. We're not going to be here if this happens, if that happens.'" (Kushner said he
wrote off those threats
as "whining.") Did Cipollone consider resigning? When and why? And, as importantly, why didn't he?
The Point: Cipollone is the Forrest Gump of January 6 and the days leading up to it — he was in the rooms where it happened.
Source link