Top Stories
Americans are feeling gloomier about the economy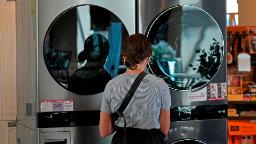 Washington, DC
CNN
 — 

Americans aren't feeling gloomy about higher gas prices just yet, but they're still on edge about inflation and the economy's direction — and concerns are starting to surface about the possibility of a government shutdown.
Consumer sentiment tracked by the University of Michigan edged down in September from the prior month by 1.8 points, according to a preliminary reading released Friday.
"Both short-run and long-run expectations for economic conditions improved modestly this month, though on net consumers remain relatively tentative about the trajectory of the economy," said the University of Michigan's Surveys of Consumers Director Joanne Hsu in a release. "So far, few consumers mentioned the potential federal government shutdown, but if the shutdown comes to bear, consumer views on the economy will likely slide, as was the case just a few months ago when the debt ceiling neared a breach."
Sentiment could start to sour soon, since gas prices are highly visible indicators of inflation. Sentiment fell to its lowest level on record last summer when gas prices topped $5 a gallon and inflation reached a four-decade high. The national average for regular gasoline stood at $3.87 a gallon on Friday, according to AAA, seven cents higher than a week ago and 17 cents higher than the same day last year.
Consumers' expectation of inflation rates in the year ahead fell to a 3.1% rate in September, down from 3.5% in the prior month.
This story is developing and will be updated.
Source link