Top Stories
American media will turn its spotlight from Ukraine to Biden for a few hours on Tuesday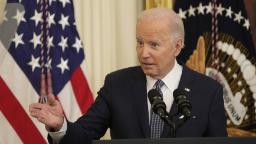 American news outlets will briefly pull away from around-the-clock coverage of Ukraine when President Biden delivers his first State of the Union address on Tuesday.
Conventional wisdom would suggest that Americans care more about close-to-home pocketbook issues than foreign wars. But the current state of play seems to be more complicated. CNN
released new polling
on Monday showing that "broad majorities of the public say they are paying attention to the situation in Ukraine (79% following at least somewhat closely) and that they are worried about the conflict leading to broader war in Europe (80% very or somewhat worried), leading to Russian attacks elsewhere (77%) or threatening U.S. national security (72%)."
So there is a lot of surface-level interest. But some news consumers are more invested than others. In the CNN poll, 31% of respondents said they were following Russia-Ukraine news very closely; 48% said somewhat closely; 18% said not too closely, and 3% said not closely at all.
Personally, I have been glued to the TV and digital coverage of the crisis, and so have most of the people who will choose to watch an hour-plus State of the Union speech. But I thought this data was a good gut check about the different types of audiences for news.
Visually different from last year
A rare Biden address in prime
Oliver Darcy writes: "One notable aspect of Biden's SOTU speech: It will be one of the rare moments that the president addresses the nation in prime time. Unlike some of his predecessors, Biden seems to shy away from prime time speeches, choosing instead to talk to the nation during the afternoon hours. This will be a break from that."
CNN's special coverage will begin at 8pm ET. The broadcast networks will begin at 9pm, minutes before the speech…
So what is the state of our union?
Snap out of it! Her point: "It's time for tough love," some "fire and resolve."
Do these speeches even matter?
Further reading
Source link