Top Stories
'Alert: Missing Persons Unit' review: Scott Caan and Dania Ramirez star in a Fox series that adds a 'Blacklist'-style mystery to its cop-show formula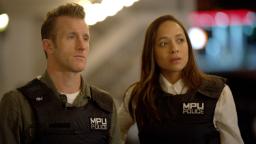 CNN
 — 

The broadcast networks continue to keep the lights on with crime procedurals (thank you, "Law & Order" and "FBI"), so it's no surprise they want to refill those baskets. Give "Alert: Missing Persons Unit" some credit for slightly bending the mold, adding an overarching mystery and family drama to its missing-person-of-the-week format.
The underlying blueprint is about as basic as it gets, focusing on Philadelphia's elite missing-persons unit that tries to track down abducted individuals and sees more action in a week than most cops do in a lifetime.
Yet the Fox series – from producer John Eisendrath, a veteran of "The Blacklist," along with Jamie Foxx (adding to his busy slate of Netflix projects) – takes a page from that show's playbook by spicing up the formula, baking in a serialized aspect built around the detectives' own missing-kid plot (a little too on the nose as these things go), along with what amounts to a love quadrangle to augment the work drudgery.
Nikki Batista (Dania Ramirez) leads the unit, working alongside her boyfriend (Ryan Broussard). But she reconnects with her ex-husband, a private security specialist named James Grant (Scott Caan, back to sleuthing after his long stint on "Hawaii Five-0"), who works with his significant other, inviting him to join the team.
The details about what broke Nikki and James up have something to do with the disappearance of their child several years earlier, until new developments in the case bring them back together. Their interactions don't sit well with either of their new partners, which results in a fair amount of bickering and suspicions.
Not that there's really time for a whole lot of the personal considerations, since each of the episodes previewed feature stand-alone cases for those who like to see their police dramas end every week with somebody getting handcuffs slapped on them. There's a perfunctory quality to those storylines, rendered even thinner thanks to all the other business and distractions with which the leads have to grapple.
Still, getting people to come back after sampling this sort of series can be challenging, so the questions about what really happened to Nikki and James' son perhaps offer a greater chance of that – especially since Fox is trying to jump-start the show's debut by introducing it behind the inflated audience the network attracts with NFL football. (The second hour will air in "Alert's" regular timeslot on Monday night.)
Fox has enjoyed some success with "9-1-1" and its ilk, and the clear goal is for "Alert" to entice those viewers. It well might as the ongoing mystery gets teased out, but thus far, this latest foray into hunting for missing persons isn't particularly worth finding.
"Alert: Missing Persons Unit" premieres January 8 at 8 p.m. ET (or after NFL football) on Fox.
Source link