Top Stories
Adani crisis: Billionaire scrambles to reassure creditors as market rout enters third week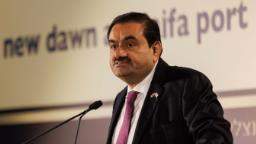 New Delhi
CNN
 — 

Indian billionaire Gautam Adani is repaying some debt early as he scrambles to end a rout in shares of his embattled conglomerate that entered a third week on Monday.
In a statement on Monday, the Adani Group said its promoters, or controlling shareholders, will be paying back loans worth $1.11 billion ahead of their scheduled maturity in September 2024. The loans were backed by shares in Adani Ports, Adani Green Energy and Adani Transmission, which have collapsed in value.
The step was taken in "light of recent market volatility" and "in continuation of promoters' assurance to prepay all share backed financing," the statement said.
A brutal stock market meltdown has wiped over $110 billion off the combined market value of firms belonging to the ports-to-power Indian conglomerate in recent weeks. Adani, the founder of the group, has lost over $60 billion in net worth since the rout began when an American short seller accused him of pulling off "the largest con in corporate history" in a January 24 report.
While the Adani Group has vehemently denied the allegation made by Hindenburg Resarch as "baseless" and "malicious," investors remain unconvinced.
In its first statement on the market turmoil, India's market regulator, the Securities and Exchange Board of India, said Saturday that it had observed "unusual price movement in the stocks of a business conglomerate." It said that if any information came to SEBI's notice, it would be examined and "appropriate action" would be taken.
The regulator added that it "is committed to ensuring market integrity."
A day earlier, the Reserve Bank of India said the banking sector "remains resilient and stable" based on its latest assessment and pledged to continue to monitor the situation.
There are fears the consequences of the sell-off may not be contained to Adani. Indian banks that hold the group's assets could also be affected if the value of those holdings continues to drop.
The regulators' comments have done little to assuage investors.
On Monday, Adani Enterprises, the group's flagship firm, was down 2% in Mumbai. Its stock price has fallen nearly 55% since Hindenburg's report was published.
"I still think the company is priced too high, given its fundamentals and before factoring the damage that might have [been] done to the company's reputation and long term value, by this short selling episode," Aswath Damodaran, who teaches corporate finance and valuation at New York University, wrote in a blog over the weekend.
Trading in shares of five listed Adani firms was suspended Monday after they fell by daily limits set by Indian stock exchanges. The same five companies were also suspended on Friday for hitting those limits.
Meanwhile, shares in Adani Ports, India's largest private port operator, were up 9%. The company operates Mundra Port, often called the group's "crown jewel," and is located in the western Indian state of Gujarat.
Most of the companies in the Adani empire are held closely by the billionaire, his family and associated firms, and investors are questing the ownership model.
"I have likened buying shares in a family group company to getting married, and then having all of your in-laws move into the bedroom with you," wrote Damodaran. "Those risks increase, if the family group companies are built around political connections, where you are one political election loss away your biggest competitive advantage."
The billionaire is seen as a close ally of Prime Minister Narendra Modi, and the saga surrounding his business empire has become the source of growing political turmoil in New Delhi.
Both men hail from Gujarat, and the businessman has grown his empire in sectors that the prime minister has prioritized for development. Rivals have also questioned Modi's use of Adani aircraft while he was campaigning to become prime minister in 2014.
Opposition lawmakers in India have demanded a probe into the Hindenburg report. They staged a protest in parliament on Wednesday while the country's finance minister presented the annual budget.
Since that day, both houses of parliament have been repeatedly adjourned as lawmakers noisily protested the lack of debate about the turmoil.
"Yet again for the third day in a row, opposition not allowed to even mention in parliament its legitimate demand," for a probe into the Adani row, opposition lawmaker Jairam Ramesh wrote on Twitter. "Modi Govt is simply running away!"
In its report, Hindenburg Research questioned the "sky-high valuations" of Adani firms and said their "substantial debt" put the entire group "on a precarious financial footing."
Analysts have long expressed fear that the rapid expansion of Adani businesses came with huge risk. The group has been fueled by a $30 billion borrowing binge, making it one of the most indebted companies in India.
Adani companies will be reporting quarterly results this week. Investors will be poring over those reports for more clues on the group's debt situation.
Rating agencies warned investors last week of the growing risks related to the company's future fundraising.
Moody's said Friday that the plunge in the shares of Adani companies was likely to reduce the group's ability to raise capital. Another agency, S&P, cut the outlook for its ratings on two companies, Adani Ports and Adani Electricity, to negative from stable, citing the risk of higher funding costs or reduced access to capital.
—CNN's Manveena Suri, and Julia Horowitz contributed reporting.