Top Stories
A 9-year-old migrant died after having seizures during scorching trek in Arizona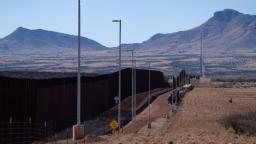 CNN
 — 

A 9-year-old migrant died from medical complications which included seizures after crossing into the US near Mesa, Arizona, in the midst of sweltering summer heat, Border Patrol officials said.
The young boy was traveling with his mother and brother on June 15 when he began experiencing seizures, US Customs and Border Protection said in a news release on Friday. The high temperature on June 15 was nearly 100 degrees in the area, according to CNN Weather.
The Santa Cruz Sheriff's Office received a 911 distress call from the mother who was sent over to the Border Patrol Tucson Sector around 9:40 p.m., according to the release. A National Guard Air Unit located the family and GPS coordinates were given to the local area fire department emergency medical services, the release said.
Upon arrival, EMS personnel picked up the child and "began walking him toward an ambulance along with a Border Patrol agent who had arrived on foot," the release said.
The child was transported to Northwest Medical Center in Sahuarita.
The child was flown the next afternoon to Banner Desert Medical Center in Mesa where medical personnel diagnosed him with multi-organ failure and placed him on life support, according to the release.
Border Patrol processed the female migrant and her children and "advised medical center staff she and her children were no longer in USBP custody," the release said.
During her interview with special agents, the female migrant said she and her children crossed over to the US with an unknown male migrant around 2:30 a.m., and told officials her son "did not have prior existing medical issues and believed the heat contributed to his medical complications during their walk," the release said.
They had been without water or any fluids for an hour and a half, the mother said, and when her son's condition deteriorated, she called 911 from her cell phone, according to the release.
The child was pronounced dead on June 17, officials said.
This incident is under review by the Customs and Border Protection Office of Professional Responsibility and the Department of Homeland Security's Office of Inspector General was notified.
Border Patrol agents have made more than 5,000 heat-related rescues and found another 103 migrants deceased due to heat exposure so far this year, according to US Border Patrol Chief Raul Ortiz.
While border crossings remain low, heat and the toll it takes on migrants remain a top concern among officials.
The Border Patrol has distributed heat stress kits to 500 agents, who are stationed in areas where rescues are common, as well as additional rescue beacons and other resources to prepare for migrants who may be in distress, according to Customs and Border Protection.
"These kits may seem simple, but they could mean the difference between life and death," Tucson Sector Chief John Modlin said in a statement. "Our agents are trained to know when to use them, how to use them, and will do everything in their power to rescue and save anyone suffering from heat stress."
"However, the message is still clear: If you are thinking of entering the United States illegally, don't do it.," Modlin added. "The Arizona terrain is extreme, the summer heat is severe, and the miles of desert that migrants must hike after crossing the border are unforgiving."
The number of search and rescue efforts made by Border Patrol agents has skyrocketed in recent years. During the ongoing 2023 fiscal year, which started October 2022 and goes through September 2023, agents have conducted more than 24,000 search and rescue efforts, according to the agency.
In fiscal year 2019, the earliest year made readily available by the agency, agents made just under 5,000 rescue attempts on the US southern border. Search and rescue efforts during fiscal years 2020, 2021 and 2022 were about 5,000, 13,000 and 22,000 respectively, per the agency.