Top Stories
5 ways the pandemic has improved our relationship with food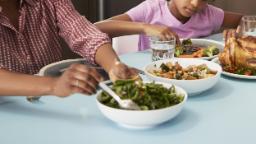 Rather than grab what we can from the fridge on the way to soccer practice, my family is all sitting down together to a homemade vegetarian meal. On the menu tonight:
cauliflower lentil tacos
.
Before you get the wrong impression that everything's going swimmingly at my house, it's not. But as a registered dietician and a mom, I'm noticing a few noteworthy patterns amid the pandemic, both in my own family and in what my clients report every day.
Some of these food-related behavior changes have the potential to become new habits with long-term benefits. Here are five eating-related behaviors I hope endure beyond the pandemic.
1. Eating family meals together
Finding time for family meals isn't always possible or easy, but hopefully people will continue to prioritize eating together whenever they're able. And remember, it isn't only dinner that counts. Even eating a quick snack together or family breakfast is valuable.
2. Kids learning to cook
Learning to cook can be fascinating for kids but exhausting for overworked parents. Don't lose heart if it seems every kid but yours can whisk and sauté. Ignite the basics by letting your child arrange simple snacks on a plate. It's never too little, too early or too late to start giving kids some autonomy in the kitchen.
3. Eating more plant-based proteins
4. Buying food locally and lending a hand in the hunger crisis
5. Changing mindsets about wellness to include self-compassion
Eating is one of the most basic ways we take care of ourselves, and disruptions in food and activity routines have people rethinking how they define wellness.
People have come home to roost around food in these unprecedented times, discovering new habits and insights about what it means to truly nourish themselves.
Stephanie Meyers is a registered dietitian and nutritionist. Meyers was an instructor in nutrition at Boston University in Massachusetts when she wrote this article. She does not work for, consult, own shares in or receive funding from any company or organization that would benefit from this article, and has disclosed no relevant affiliations beyond their academic appointment.
Source link