Top Stories
5 things to know for May 10: Ukraine, Manhunt, Philippines, Stocks, Resort deaths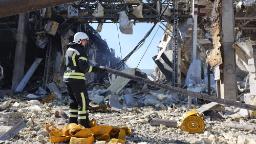 Here's what you need to know to Get Up to Speed and On with Your Day.
(You can get "5 Things You Need to Know Today" delivered to your inbox daily.
Sign up here
.)
1. Ukraine
The southern
Ukrainian city of Odesa
came under heavy attack yesterday, as Russian forces deployed cruise missiles — including Russia's new hypersonic
Kinzhal missiles
— that destroyed two hotels, a shopping center and a warehouse. One person died and five were hospitalized, according to Ukrainian officials. Separately, the World Health Organization has verified
200 attacks on health care facilities in Ukraine
since the start of Russia's invasion. In an effort to help Ukraine combat Russian aggression, President Joe Biden has called on Congress to "immediately" pass a nearly
$40 billion Ukrainian aid bill
, warning for the first time that existing aid will run out in "approximately ten days." The House of Representatives is
set to consider the aid package today
, House Majority Leader Steny Hoyer said.
2. Inmate escape
3. Philippines election
4. Stocks tumble
5. Resort deaths
BREAKFAST BROWSE
Warhol portrait fetches a record $195 million
Anthony Anderson celebrates graduation from Howard University
Tony Awards nominations announced
Prince Harry shows off his acting skills in new video
Top 10 hotels in the world and the US for 2022, according to Tripadvisor
TODAY'S NUMBER
2.2 million
TODAY'S QUOTE
"The lake has drained dramatically over the last 15 years. It's likely that we will find additional bodies that have been dumped in Lake Mead."
TODAY'S WEATHER
AND FINALLY
Window cleaner creates logos on soapy glass
Source link