Top Stories
5 things to know for Feb. 3: Arctic blast, Spy balloon, Ukraine, Tobacco, Eye drops


CNN
 — 

While you were sleeping this week, many sky watchers in the Northern Hemisphere were up overnight trying to catch a glimpse of a rare green-hued comet passing by Earth. Take a look at some of the photos they captured of the celestial object swinging through our cosmic neighborhood.
Here's what else you need to know to Get Up to Speed and On with Your Day.
(You can get "5 Things You Need to Know Today" delivered to your inbox daily. Sign up here.)
Parts of the Northeast US are bracing today for possibly the coldest wind chills in decades. Dangerously frigid temperatures with wind chills as cold as 50 degrees Fahrenheit below zero are set to wallop New England and surrounding regions beginning this morning, the Weather Prediction Center said. All of Maine, New Hampshire, Vermont, Massachusetts, Rhode Island and Connecticut are under wind chill alerts. Northern New Jersey, northeast Pennsylvania and much of New York state outside of New York City and Long Island are also under wind chill threats. Officials are warning people to stay indoors as such extreme conditions can cause frostbite in as little as 10 minutes. Fortunately, the cold spell will only last about 36 hours, forecasts show. This comes as the South is struggling with a deadly ice storm that made road conditions miserable this week, claiming the lives of at least eight people in two states.
US officials are tracking a suspected Chinese high-altitude surveillance balloon floating above the northern US. It is currently "traveling at an altitude well above commercial air traffic and does not present a military or physical threat to people on the ground," Pentagon spokesman Brig. Gen. Patrick Ryder said Thursday. Senior military officials advised President Joe Biden not to shoot down the balloon – which is the size of three buses – due to fear that the falling debris could pose a safety threat to civilians. Officials say they are confident the balloon belongs to the People's Republic of China, and although its current flight path carries it over "a number of sensitive sites," officials say it does not present a significant intelligence gathering risk.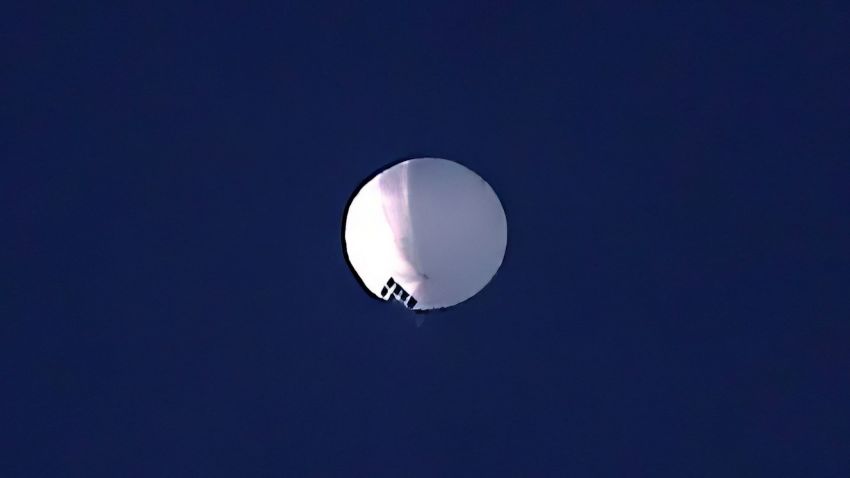 See suspected China spy balloon fly over US skies
The US is expected to announce a new Ukraine security package worth approximately $2.2 billion that includes longer-range missiles for the first time. The type of missiles included in the package will effectively double the range of Ukrainian weaponry, officials say, reaching a range of approximately 90 miles. This will be the first security package since the US committed to providing Ukraine with advanced M-1 Abrams tanks in January, a decision made in coordination with European countries providing German-made Leopard 2 tanks. The weapons will not arrive in Ukraine immediately, since they will not come directly out of US inventories. Instead, the US will contract with weapons manufacturers – a process that could take weeks or months while the war drags on. The announcement of the new package, however, could come as soon as today.
Kherson city was liberated 12 weeks ago. See why it's become a ghost town
Most US adults support banning sales of all tobacco products, according to a new CDC survey. Although cigarette smoking has declined in recent decades, it remains the leading cause of preventable disease, disability and death in the US, where nearly 31 million adults currently smoke. Meanwhile, the FDA is still considering its proposed ban on menthol cigarettes and flavored cigars. Experts say menthol – the last flavor allowed in cigarettes – makes smoking easier to start and harder to quit. The additive can mask the harshness and irritation of tobacco, making cigarettes more appealing to young people and those who have never used tobacco products. It also enhances the effect of nicotine in the brain, making tobacco products even more addictive. One study published in 2021 estimated that a menthol cigarette ban in the US could prevent up to 650,000 premature deaths over the next 40 years.
The manufacturer that distributed eye drops under the brand EzriCare has issued a recall due to possible contamination, the FDA said Thursday. This comes after the CDC said earlier this week it is investigating 55 reports of infections in 12 states that may be linked to the products. Some of the cases resulted in permanent vision loss or hospitalization, and one person died. The drops were sold online across the US in multidose bottles. Consumers should stop using them and report any adverse reactions to the FDA, health officials said. New Jersey-based EzriCare said in a statement that after learning about the investigation on January 20, it "immediately took action to stop any further distribution" of the eye drops and has been "contacting customers to advise them against continued use of the product."
Do you wear jeans and pajamas again without washing them?
Another wear wouldn't hurt, right? Experts say these are the types of clothes that are fine to wear repeatedly without washing.
The people who live inside airplanes
These homes are anything but plane. Meet the people who bought airplanes and converted them into private homes.
Ellen DeGeneres and wife Portia de Rossi renew their vows
Kris Jenner also officiated the proceedings. See a photo from the ceremony.
Subway hopes new meat slicers will boost sales
Following a menu revamp and store renovations, the company believes its plan to slice meat in front of customers could make 2023 another record year.
How to buy a monastery in Italy
Surrounded by olive groves and green rolling hills, just imagine living a peaceful, slow life in this rural Italian village.
Which NFL teams are headed to the Super Bowl on February 12?
A. Cincinnati Bengals & San Francisco 49ers
B. Buffalo Bills & Minnesota Vikings
C. Philadelphia Eagles & Kansas City Chiefs
D. Dallas Cowboys & Baltimore Ravens
Take CNN's weekly news quiz here to see if you're correct!
$50,000
That's how much an unopened first-generation iPhone from 2007 is expected to fetch at an auction. Originally priced at $599, another unopened first-generation iPhone was recently auctioned in October for more than $39,000.
"My voice will get louder and stronger."
– Democratic Rep. Ilhan Omar, after the Republican-led House of Representatives voted on Thursday to remove her from the powerful House Foreign Affairs Committee. The resolution passed on a party-line vote of 218 to 211. House Republicans have argued that Omar should not serve on the committee in light of past statements she made related to Israel that have in some cases been criticized by members of both parties as antisemitic.
Check your local forecast here>>>
Keeping Martin Luther King Jr.'s dream alive
February marks Black History Month in the US, a time honoring the contribution and achievements of Black people in history. Meet a man who travels the world reenacting the speeches of Dr. Martin Luther King Jr. (Click here to view) 
Source link